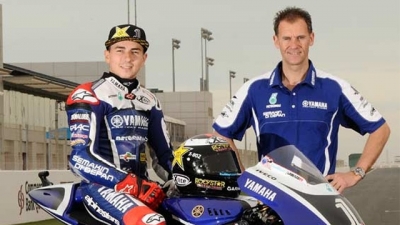 Speed have an interesting interview with Wilco Zeelenberg who talks about his second season with Jorge Lorenzo and what pressures and challenges come with being team manager for the World Champion.
What are you looking for on the track when you watch Jorge riding?
I'm looking to see what difficulties Jorge has in certain sections of the track compared to other riders. If he's fast and also faster than the rest then it's easy to see that he's going well, when he is struggling I can easily pick that up to and come back to the pit to input my thoughts to the discussion.
How do you physically see those things on the track?
You see everything together but it's quite hard to explain. You listen to the RPM of the bikes as they go through corners, You look at the lean angle which they have to do to make the corner, if Jorge needs the whole track to make the corner with the speed he is doing, is he able to improve with the same set up / package? That's what we struggled with a little bit at the beginning at the Qatar Test, the Saturday or Sunday was quite ok but he was at the limit of the package and riding well. But when the wind came up which didn't help him a lot he had to turn the bike more but it wasn't possible so then he started to struggle; I could see on the track that he needed a better turning bike. We figured that out on the last day of testing on the Monday. So, we made some changes in the first free practice on the Thursday night and Jorge was straight up there on the time sheets. He felt a lot better on the bike so from there on we looked forward.
Popularity: 1% [?]