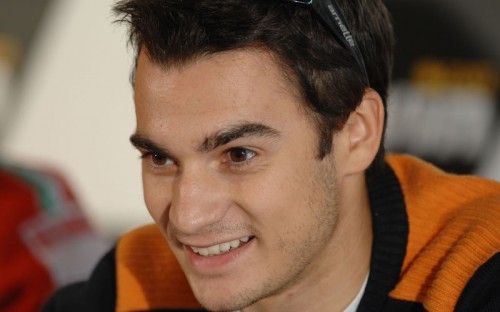 Repsol Honda have been taking advantage of the MotoGP summer break to get their riders to sit down and take part in a series of intereviews.
The full Dani Pedrosa interview can be read below, where he reflects on his return from his collar-bone injury, and talks about his aims and goals for the rest ofthe season.
Dani Pedrosa Interview:
Laguna Seca is always the halfway point of the season and the start of the short summer break. Will you be able to switch off? What are your plans?
"My plan is to recover, because my muscles are very stiff, so I will try to rest a bit to allow them to relax. When I feel better, I intend to train in order to avoid feeling so weak in the second half of the races".
This season you had very high expectations, but you had a really difficult first half. Despite that, you nearly did more wheelies than ever, in Jerez, Estoril and Sachsenring. What is your assessment of this first half of the season?
"My opinion of these races is that I competed well, but I was unlucky".
They say that after falling, the important thing is to pick yourself up. You really picked yourself up in style! You had unexpected victories in Portugal and Germany. Do your wins of this year have a special flavour?
"These victories have a very special taste indeed. Especially after the injuries I suffered, as I was never at 100%. These wins give me a high level of confidence. My rivals are in full form, so I am eager to recover my form too so that I can fight against them on equal terms".
The end of your bike's life cycle is approaching, but until the end of the season, in which areas should it be improved?
"The stability and the entrance of the corners are always complicated matters; especially in the tracks with more bumps. Anyway, the bike is responding very well for now".
This year we have seen some falls in the first minutes of the practices, due to the difficulty to warm and feel the tyres. Have you gone backwards in that area?
"Yes, undoubtedly. Now the tyres, both the front and the rear, when they are cold they are a bit more dangerous. In this first half of the season we saw that nearly all crashes occurred when the tyres were new".
How do you see your main rivals?
"They are doing a good job. I have been out of competition, which made it a bit easier for them. The competition is very close. There is a very high level, but we could say that none of us is at 100%. Jorge made some mistakes and only Stoner has been the most consistent".
What aims do you set for yourself in the rest of the races?
"My aim is to recover my full form and thus be able to win some races".
How do you feel both physically and mentally for these eight Grand Prix?
"Right now I am not at 100%, but I hope to recover progressively race after race and let's hope that I will be able to fight back in the end".
Popularity: 1% [?]