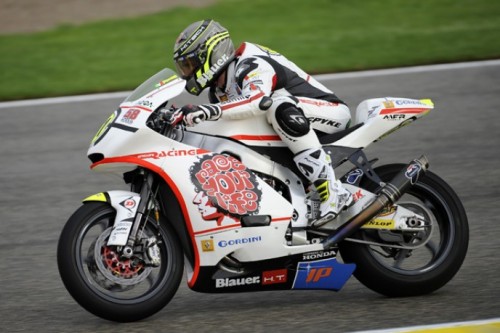 The team Gresini Moto2 bikes of Michele Pirro and Yuki Takahashi both have a tribute to Marco Simoncelli on their livery this weekend at Valencia.
Both bikes feature a portrait of Marco Simoncelli on the sides of the fairings, with the phrase "Race Your Life" featured in Simoncelli's hair.
The team obviously had Simoncelli giving them an extra push today, as Michele Pirro claimed pole position and Yuki Takahashi took second. Having both Gresini bikes in the top 2 positions was a fitting tribute to the team and to the memory of Simoncelli. A monet of joy on a sad day.
Michele Pirro (1st 1'37" 067)
"The photo of Marco and the number 58 on my bike certainly helped today. I am sure he was pushing us on from up there and I want to dedicate this pole position to him and to his family, who are suffering so much. It is also a pole position for the team and everybody who has endured twelve difficult days. We were close to pole at Sepang but this one is much more special and I hope to do well again tomorrow."
Yuki Takahashi (2nd 1' 37" 076)
"The conditions were very difficult today because we only had a few laps on track. As a team we made the decision to push hard for a lap time early on and that resulted in a magnificent result with the front two positions on the grid. I am happy for the whole team and for Moriwaki and I am sure that we owe all this to Marco, who was with us today. I hope we can do it again in the race tomorrow."
Fausto Gresini
"Obviously this is a great result for the team and for sure in some way Marco gave us a push today. He would have said: "Diobò, you guys have been slow all season and now I have to help you!" Joking aside the emotion is very strong here and it certainly gave our riders extra motivation today."
Full Moto2 Qualifying results from Valencia:
1. Michele PIRRO ITA Gresini Racing Moto2 Moriwaki 252.9 1'37.067
2. Yuki TAKAHASHI JPN Gresini Racing Moto2 Moriwaki 260.5 1'37.076 0.009 / 0.009
3. Mika KALLIO FIN Marc VDS Racing Team Suter 265.6 1'37.477 0.410 / 0.401
4. Stefan BRADL GER Viessmann Kiefer Racing Kalex 265.0 1'37.870 0.803 / 0.393
5. Alex DE ANGELIS RSM JIR Moto2 Motobi 261.8 1'37.888 0.821 / 0.018
6. Thomas LUTHI SWI Interwetten Paddock Moto2 Suter 263.7 1'37.963 0.896 / 0.075
7. Dominique AEGERTER SWI Technomag-CIP Suter 261.2 1'38.095 1.028 / 0.132
8. Xavier SIMEON BEL Tech 3 B Tech 3 261.4 1'38.182 1.115 / 0.087
9. Mike DI MEGLIO FRA Tech 3 Racing Tech 3 264.3 1'38.496 1.429 / 0.314
10. Simone CORSI ITA Ioda Racing Project FTR 260.6 1'38.565 1.498 / 0.069
11. Aleix ESPARGARO SPA Pons HP 40 Pons Kalex 262.6 1'38.633 1.566 / 0.068
12. Bradley SMITH GBR Tech 3 Racing Tech 3 263.2 1'38.652 1.585 / 0.019
13. Pol ESPARGARO SPA HP Tuenti Speed Up FTR 264.3 1'38.655 1.588 / 0.003
14. Scott REDDING GBR Marc VDS Racing Team Suter 256.9 1'38.703 1.636 / 0.048
15. Jordi TORRES SPA Mapfre Aspar Team Moto2 Suter 260.5 1'38.924 1.857 / 0.221
16. Esteve RABAT SPA Blusens-STX FTR 258.9 1'38.936 1.869 / 0.012
17. Mattia PASINI ITA Ioda Racing Project FTR 261.3 1'39.096 2.029 / 0.160
18. Alex BALDOLINI ITA Desguaces La Torre G22 Moriwaki 259.5 1'39.293 2.226 / 0.197
19. Jules CLUZEL FRA NGM Forward Racing Suter 264.1 1'39.309 2.242 / 0.016
20. Yonny HERNANDEZ COL Blusens-STX FTR 255.5 1'39.316 2.249 / 0.007
21. Julian SIMON SPA Mapfre Aspar Team Moto2 Suter 265.9 1'39.403 2.336 / 0.087
22. Anthony WEST AUS MZ Racing Team MZ-RE Honda 262.3 1'39.442 2.375 / 0.039
23. Kenny NOYES USA Avintia-STX FTR 259.2 1'39.549 2.482 / 0.107
24. Max NEUKIRCHNER GER MZ Racing Team MZ-RE Honda 261.6 1'39.671 2.604 / 0.122
25. Andrea IANNONE ITA Speed Master Suter 264.9 1'39.716 2.649 / 0.045
26. Claudio CORTI ITA Italtrans Racing Team Suter 259.1 1'39.743 2.676 / 0.027
27. Randy KRUMMENACHER SWI GP Team Switzerland Kiefer Racing Kalex 261.4 1'39.818 2.751 / 0.075
28. Raffaele DE ROSA ITA NGM Forward Racing Suter 261.8 1'39.849 2.782 / 0.031
29. Kenan SOFUOGLU TUR Technomag-CIP Suter 254.9 1'40.277 3.210 / 0.428
30. Valentin DEBISE FRA Speed Up FTR 263.0 1'40.368 3.301 / 0.091
31. Santiago HERNANDEZ COL SAG Team FTR 261.1 1'40.441 3.374 / 0.073
32. Joan OLIVE SPA Aeroport de Castello FTR 264.0 1'40.512 3.445 / 0.071
33. Robertino PIETRI VEN Italtrans Racing Team Suter 261.1 1'40.690 3.623 / 0.178
34. Oscar CLIMENT SPA Team Climent MIR Racing 256.2 1'40.953 3.886 / 0.263
35. Elena ROSELL SPA Mapfre Aspar Team Moto2 Suter 254.2 1'42.006 4.939 / 1.053
36. Ratthapark WILAIROT THA Thai Honda Singha SAG FTR 255.6 1'42.317 5.250 / 0.311
37. Mashel AL NAIMI QAT QMMF Racing Team Moriwaki 258.3 1'42.627 5.560 / 0.310
38. Nasser Hasan AL MALKI QAT QMMF Racing Team Moriwaki 255.9 1'43.709 6.642 / 1.082
80 Axel PONS SPA Pons HP 40 Pons Kalex
93 Marc MARQUEZ SPA Team CatalunyaCaixa Repsol Suter
Popularity: 4% [?]