The latest installment in our infrequent series about MotoGP and Bike Tattoos continues with the rider that probably generates the most devotion and loyalty amongst motorcycle racing fans – Valentino Rossi. There is probably no other rider in the paddock that can cause otherwise sensible men, to think it's a good idea to get Rossi's face, racing number or logo's tattooed all over their body.
For the Rossi fans that enduring getting scratched up by a needle to show their support and devotion to their hero - we salute you.
MotoGP and Bike Tattoos #2: Valentino Rossi Tattoos:
Part 1: Valentino Rossi and Rossi Racing Tattoos:
Tattoo fan or not, you can't not admire the skillful artwork that's gone into this Valentino Rossi Tattoo by Alex De Pase.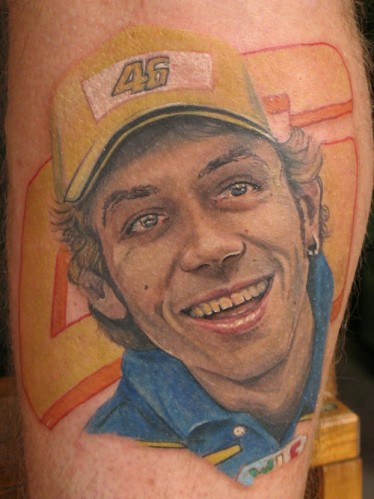 However, if it's about artwork AND surface area covered then this guy below wins with his back tribute to Valentino Rossi – you can only wonder what's on his front. (source of image: flickr.com/photos/bastianelli/290852716/ )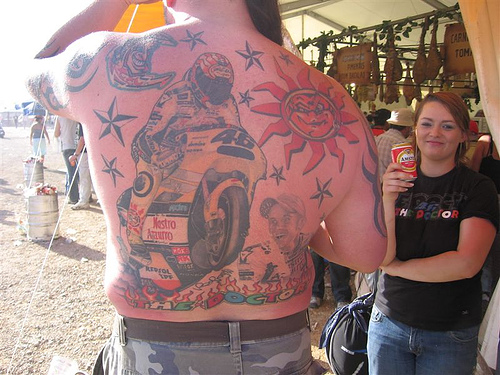 A more up-to-date tattoo below, showing Rossi at Mugello in 2008 when he wore a photo of his face on the top of his helmet – little did Rossi know that sometime in the future, the image of the image of his face would be on an image tattooed on some blokes back in a sort of fan-boy infinate regression loop. Still, must have taken ages and was probably pretty painful – but that's no excuse, man up and get it coloured in.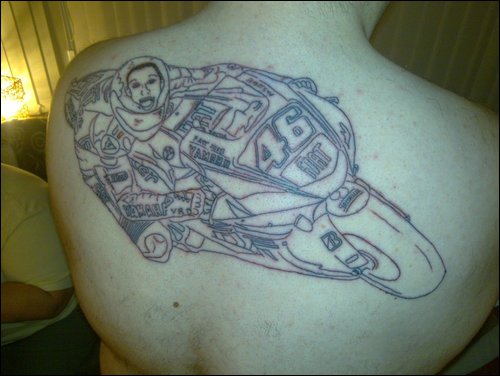 Talking of colouring in – wow, great piece below showing Rossi in his 2006 Yamaha colours. Looks like a forearm?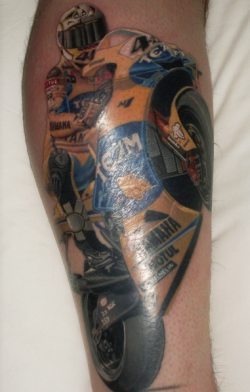 Another great leg piece depicting Rossi in his 2004 Yamaha livery.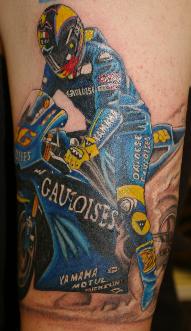 This one below gets top marks for originality with a stylized cartoon of Rossi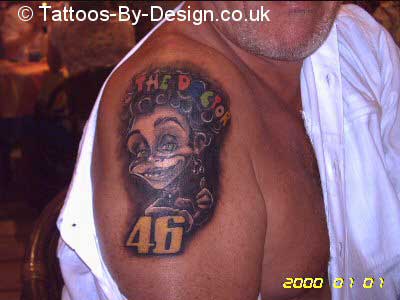 Part 2: Valentino Rossi logo and symbol tattoos:
The marketing phenomenon that is Valentino Rossi gives fans a multitude of logos to choose from when wondering what to get etched into their flesh – and it's unsurprising that popular choices include 'The Doctor' and the 'Sun and Moon logos that Rossi is associated with.
This is just incredible, it's hard to work out what to admire most, the quality of the tattoo, or the fact that he's had it done around his love handles (still, if he's over 35 those love handles won't be going anywhere so it may well have been a wise choice). We can only wonder at the awkward silence that would happen if this chap had to have his prostate gland checked, as a real doctor stares down at that tattoo while he shoves his finger up his patients arse. Apparantly, when Rossi signed his back, the guy rushed off to get the signature tattooed on permantly – gotta take your hat off to the true fans. (source of image: flickr.com/photos/46043665@N00/196858083 )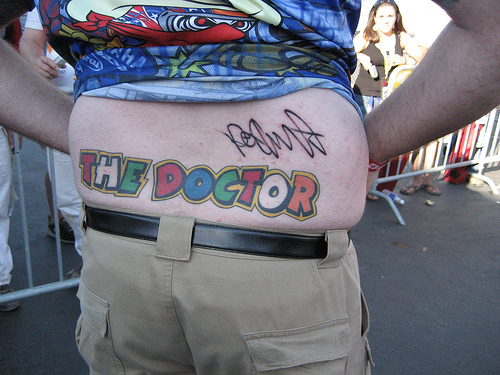 The Sun and Moon
There are a ton of these, so we've put them together in a gallery of raw pink flesh and ink.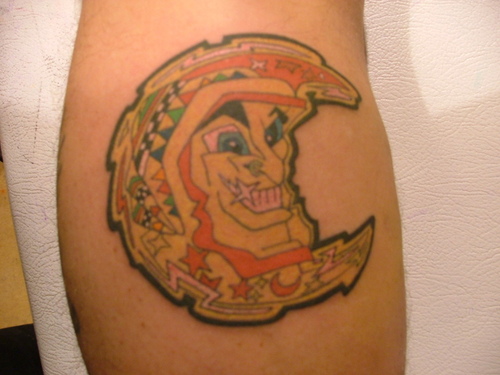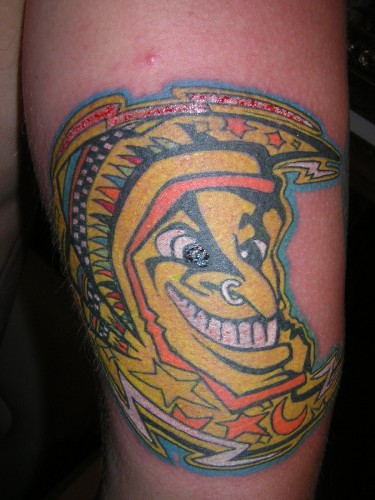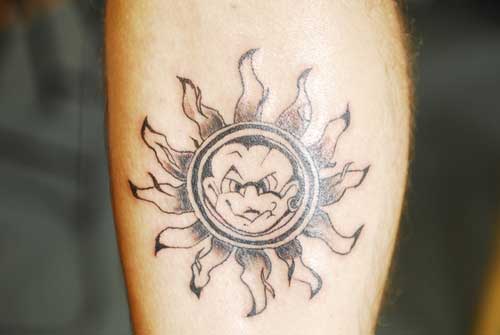 This is the best sun motif that we've seen, and it must have taken hours…..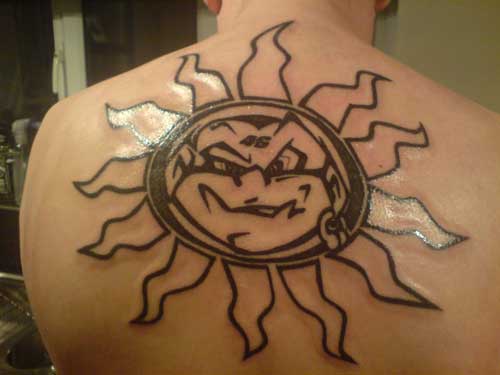 …and this is probably the worst sun motif that we've seen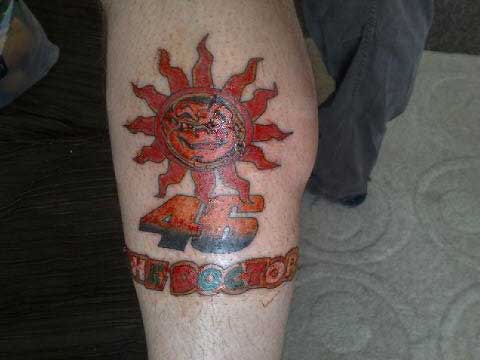 There are a few turtles out there though: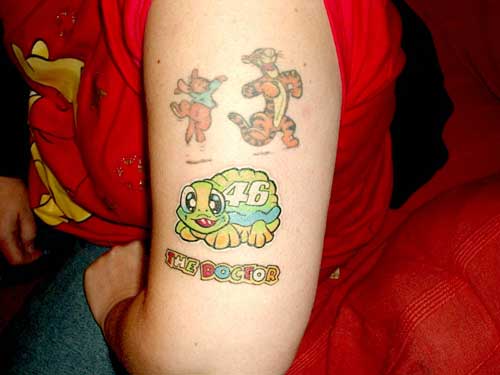 Looks like someone needed to shave a monkey's forearm to get that on there – nice turtle though.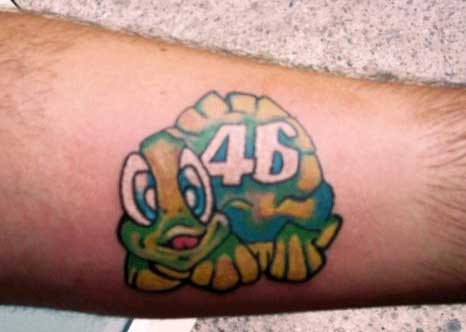 If you know of any more out there then post a link to them in the comments.
Popularity: 100% [?]