This is the brand new Arai RX-7 GP Colin Edwards replica Helmet. This is the same helmet design that Colin Edwards has been riding with in the 2009 MotoGP season – and it's stunning. It is available for sale to the general public.
Arai RX-7 GP Colin Edwards Helmet:
The all-new Arai RX-7 GP is the most extensive race tested helmet ever. This successor to the legendary RX-7 Corsair, has been developed in actual MotoGP and Grand Prix races. Tested at high speeds on the straights of international racetracks. Designed for and used by winning professional riders. The result is the stunning new RX-7 GP with an adjustable Air Wing that significantly reduces buffeting and drag when the riders emerge from a full tuck when braking from high speeds, enhancing concentration. At the same time the Air Wing increases the top speed thanks to the improved aerodynamic properties of the new RX-7 GP.
PENETRATION RESISTANT: The penetration test of falling the 3kg cone test striker through a height of 300cm is conducted, although it is not required by European helmet standards.
PATENTED SNC CONSTRUCTION: SNC 'Structural Net Composite' is Arai's newest and most advanced shell construction. It incorporated a structural net reinforcing material embedded between Arai's exclusive Super Complex Laminate Construction layers for an even more rigid, yet lighter outer shell.
HYBRID MULTIPLE-DENSITY FOAM EPS LINER: Arai's unique technology of giving multiple different densities to the liner as a single component instead of assembling several different density liners to make the final part.
ERGONOMICALLY SHAPED SHELL: Enables a more enveloping fit toward the bottom opening allowing improved streamlining and a smarter appearance at the same time.
HYPER RIDGE: Reinforcement at the bottom of the outer shell for more strength, including the area around the rear exhaust vents.
DIFFUSER: Diffusers and ventilation ducts are integrated into the outer shell for a smooth helmet surface.
CHIN VENT: Two position vent with integrated charcoal filter: half open directs the airflow down, full open for visor demist function.
FFS: Combining new cheek pad designm redesigned neck roll, and extended pull-down chin spoiler helps reduce wind noise and increase the exhaust of hot air.
BREATH GUARD: Removable breath guard helps reduce fogging by directing breath away from the visor.
CHIN SPOILER: Unique Pull-Down airflow chin spoiler further helps minimise wind noise.
REMOVABLE INTERIOR: Plush removable, washable interior with Dry-Cool liner material utilises micro water cells to improve moisture and heat transfer keeps the head dryer and cooler.
CHINSTRAP:Covers made of Dry-Cool fabric for more comfort and better fit.
AERODYNAMIC SHELL: Offers minimum frontal area for excellent aerodynamics, great for racing purposes.
BROW VENTILATION: More cooling air in the upper face area without the need to drill holes in the shell.
LRS: Lever Release System. Visor change in seconds without tools.
DEMIST LOCK: Ventilates the visor, yet keeps it locked. Especially practical for around town use under damp weather conditions.
INTEGRATED HOLDERS: For a smooth aerodynamic shell surface.
Five Year Arai Warranty
Images of Arai RX-7 GP Colin Edwards 2009 Helmet: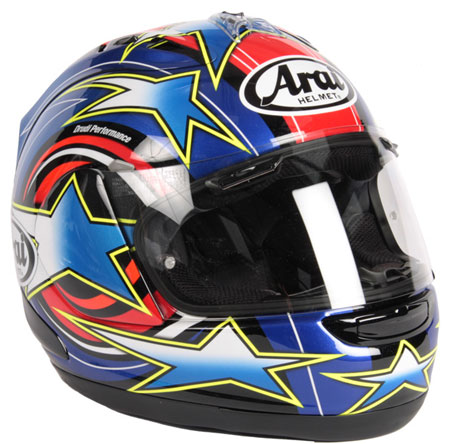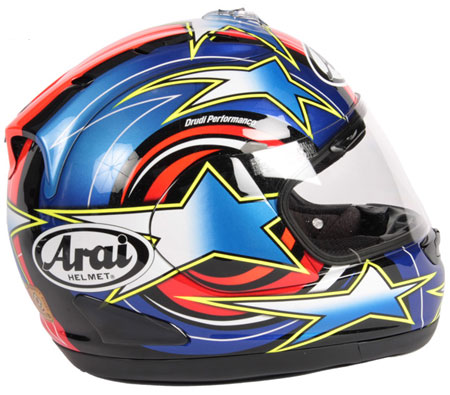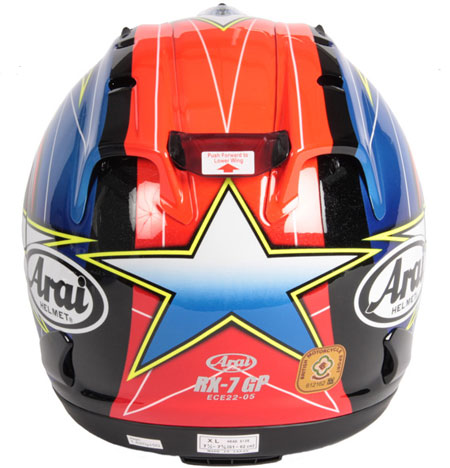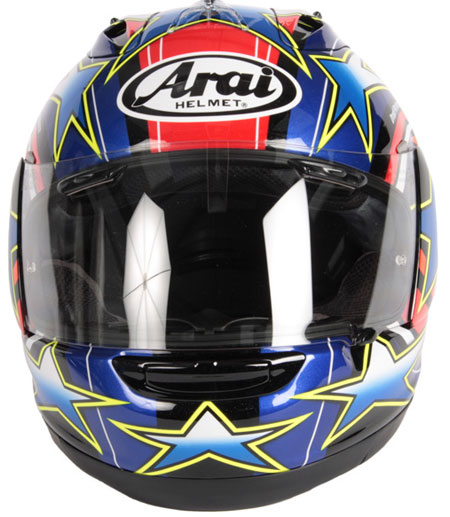 Where to buy the Arai RX-7 GP COLIN EDWARDS Helmet:
Best pricing can be found online.
SportsBikeShop.co.uk has stock priced at £589.99 with free UK delivery (and they deliver worldwide). They are also offering a further 10% off the final sale price using the following code at checkout: ARAICLUB. BUY IT HERE
GetGeared.co.uk has stock at £589.99 and deliver worldwide. BUY IT HERE
It's also available in BLACK
Popularity: 13% [?]