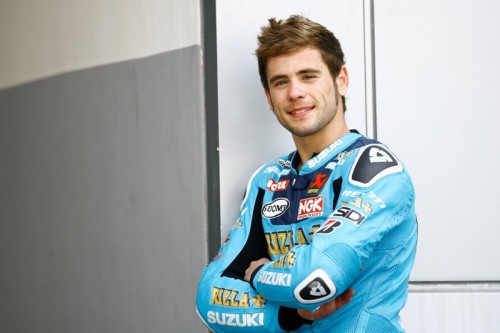 Álvaro Bautista is back in Spain after being in and out of hospital for operations on his leg following the broken femur he suffered at Qatar last weekend. Bautista is hoping to join the Rizla Suzuki team in Jerez – albeit as a spectator only, to support the team and to watch John Hopkins racing in his place.
Bautista broke his left femur in a huge high-side crash at Losail on Friday 18th March and undertook an operation to insert a metal pin into the bone on the following morning in Doha.
Bautista then suffered some minor complications as he developed Compartmental Syndrome, which occurs when pressure within the muscles around the injury builds to dangerous levels.
This pressure can decrease blood flow, preventing nourishment and oxygen from reaching nerve and muscle cells and hampering the healing process. In order to combat this Bautista found himself back in hospital to have a second operation in order to open a cut in his leg to relieve the built up pressure.
Following the operation the wound was left open (covered with a sterile dressing), as Bautista returned to Madrid to receive further treatment.
Bautista was immediately examined by Dr Angel Villamor upon his arrival in Spain and another small operation was conducted to close the wound. This procedure was a success and the pressure around the injury has now decreased, which enabled Bautista to take his first few tentative steps on Thursday with his physiotherapist.
Rizla Suzuki's Spanish star has no confirmed date for his racing return to the MotoGP arena, but Bautista will be doing all he can to be back amongst the action as soon as possible. His first target is to be present at the Spanish Grand Prix to support the team on Sunday 3rd April, as he aims to return to full fitness as quickly as he can.
Popularity: 2% [?]