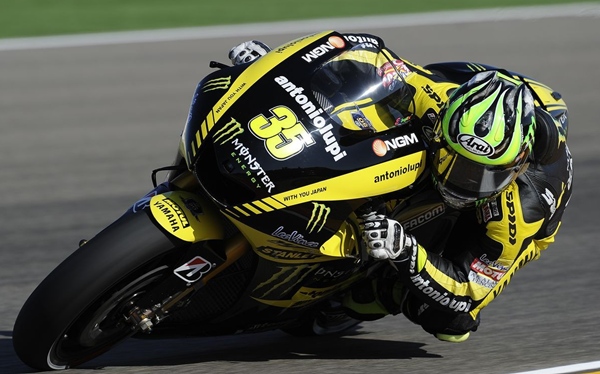 True to his word, Cal Crutchlow predicted yesterday that he would get a top 10 finish , and he did just that at Aragon.
Despite the crashes from Abraham and De Puniet that helped slim the field down a bit, Crutchlow put on a strong performance that culiminated in a 3 way battle with Aoyama and Rossi.
Edwards was all but absent from the race as he struggled around the track to finish in a lonely 13th
After the race, team manager, Herve Poncheral was quizzed on who might be in the frame to replace Colin Edwards for next season and he confirmed that the team were in discussions with Dovizioso and Bautista (who is still unclear about Rizla Suzuki's plans for next season), as well as some Moto2 riders, including Andrea Iannone. Eugene Laverty is also in the frame.
Cal Crutchlow 9th – 52 points:
"I'm really pleased with how the race went today because I was back inside the top and having a really good and enjoyable fight with two of the best riders on the grid, who have had a lot of success in Grand Prix racing. It is a shame that I lost a couple of places at the first corner because I'm sure with a better start I could have been battling with Bautista and Hayden. I got on the inside on the dirty part of the track and when I braked I locked the front wheel and nearly crashed. What pleases me the most is that I could make up for the lack of speed on the straight in the corners because the Yamaha handles brilliantly and my Monster Yamaha Tech 3 Team gave me a really good bike today. But to hold off Valentino and Hiroshi at the end took a massive effort. I think if they'd started the final lap in front of me on the straight it would have been hard for me to slipstream. There are a lot of positives to take from this weekend because I've got back in the top 10 on a track I'd never seen before and beaten two guys with a lot more experience than me. I gained a lot of experience today riding with Valentino and that has given me a lot of confidence for the next few races."
Colin Edwards 13th – 90 points:
"That certainly wasn't a great way to celebrate my 150th race in MotoGP. We tried to get the bike right all weekend but we were pretty much chasing our tails the whole time. We were trying to improve the rear grip to compensate for the speed we lose on the straight and for the race we altered the weight distribution again. We put a lot of weight on the rear but it never really worked. After about five laps the grip just went down and I wasn't expecting it to drop off that quickly. Once that happened I couldn't stay in that group I was in and I just went backwards. If somebody gave me 10 million Euros to do a 1.51 right now, there is no way I could do it. The last two races have been pretty tough, so we'll get our heads together and try and come up with a solution for Japan and aim to be fighting back in the top 10 where I have been all season."
Herve Poncharal – Team Manager:
"I am really pleased to see Cal back in the top 10 and riding with the same confidence that he showed in the first part of the season. I think it was the best ride of the year for him. Maybe not in terms of the final position, but the way he rode was fantastic. The start was difficult, but he never gave up and what was really good is that he was riding with Valentino and Hiroshi and he would have learned a lot from those two. Today he could battle with a nine times World Champion and I'm sure that will do a lot for his confidence in the future. He didn't only race with them but he beat them and that makes it even more satisfying. With a better start it is not unrealistic to imagine he could have been with Bautista and Hayden, but ninth position is still a very positive result. It was a difficult weekend for Colin and definitely not the way any of us wanted to mark his 150th MotoGP race. He took a gamble on the set-up and he also used the soft front tyre and unfortunately this time it didn't pay off. All he could do was finish and get some points and we hope he can quickly forget this weekend and return to the form we know he is capable of in Japan."
Popularity: 1% [?]