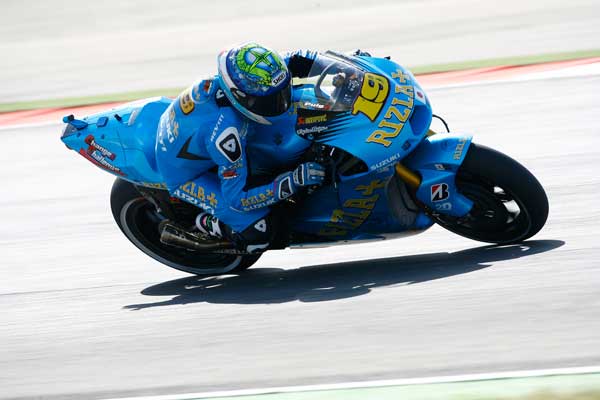 Rizla Suzuki's Álvaro Bautista produced a thrilling performance in front of his home fans at Aragon in Spain today to equal his best dry result of the season so far.
Bautista started from 11th on the grid – but like the last few races, he followed his recent pattern of having a poor qualifying session and then a strong race.
Bautista got boxed in on the first corner and was lucky to avoid the crash between Karel Abraham and Randt De Puniet. Bautista quickly found his rhythm and capitalised on the situation to take 8th position by the end of the first lap.
He then got involved in an almost race long battle with the Ducati's of Hector Barbera and Nicky Hayden as the three of them traded places many times throughout the race, before Bautista got the better of the pair and made a break in the latter stages to secure a hard-fought, but deserved, sixth place.
Álvaro Bautista:
"Today we had very different conditions from the practice and the temperature was much lower. I wanted to have a good race in front of my home fans, so I pushed as hard as I could to make the bike and tyres work right from the beginning, but I didn't get a good start and other riders got in my way in the first corner and it was quite difficult to overtake early on. I got up to Hector and Nicky we had a big battle and fought a lot between us and when I got into sixth the riders in front were very far away and I was still fighting with the other two, so I couldn't get a good rhythm. In the last laps I made a break from the other two and was able to ride more consistently and smoother and pull away to secure the sixth place. It was a good result, but I think if the conditions had been the same as qualifying we had the potential to be with the group fighting for podium positions. I am happy with all we have done this weekend and looking forward to the next race and to continue with this work."
Paul Denning – Team Manager:
"Another strong race performance by Álvaro, he again kept things tidy and used controlled aggression to climb from a fourth row start to a sixth placed finish. We are really happy with Álvaro's efforts and the performance of the GSV-R, and the focus continues to be the same as it has been – that is to qualify better and get more out of the fresh tyres at the start of the race. Those two things are definitely connected, in that if we qualify better and are following the quick guys in the early laps we have a much better chance of hanging in there with them. I think Motegi will suit Álvaro and the Suzuki, and we are looking forward to giving Suzuki's Japanese fans something to remember when we go there next month."
Popularity: 1% [?]