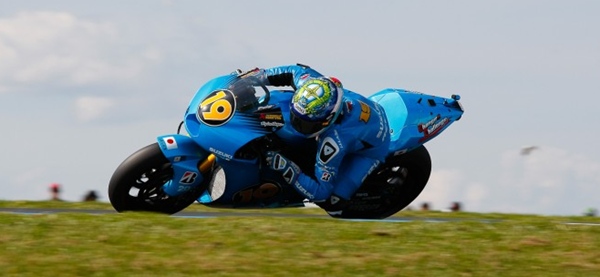 There will celebrations in the Rizla Suzuki team tonight as Alvaro Bautista claimed his best ever MotoGP qualifying position by taking 4th at Phillip Island.
Bautista's stunning late lap was a lesson in opportunism, as he managed to get close enough to Repsol Honda's Andrea Dovizioso and tucked in behind the Italian to use him as a wind-shield.
The lap initially saw Bautista in 3rd place on the timesheets, but Marco Simoncelli fired in a late fast lap to bump Bautista down to 4th.
Álvaro Bautista:
"I'm very happy with today, because I got my best qualifying result so far in MotoGP and at the toughest track for Suzuki, so that shows what good work we have done since last year. It was a fantastic lap behind Dovizioso and when I saw him in front of me on the track, I thought this is my opportunity – if I can't do a good lap now, I'll never do one! Third row was not difficult to achieve today, but when I followed him everything seemed easier. With this type of track in this wind and with these types of corners, it helps if you can follow another rider, you can certainly improve a lot and it feels much easier to ride. My feeling is good for tomorrow and I'll try to make a strong start and stay with the front guys in the first one or two laps. If we can do that I think we will be competitive, because in the first few laps all riders will push hard and after six or seven laps the tyres will probably drop off and the rhythm will settle down. I will try to do a good race tomorrow and get the best possible result I can."
Paul Denning – Team Manager:
"To achieve Suzuki's best qualifying since Mugello in 2009 – and Álvaro's best so far – here at Phillip Island is almost funny! Álvaro has had a steady pace all weekend and when it mattered today he managed to tuck-in behind Dovizioso, and use him as a wind-break, and do an absolutely awesome lap-time. It's been clear from the potential shown this year just how much the GSV-R has improved and for it to perform around here in cold and windy conditions – how it has done today – is testament to the hard work of Sahara san and his engineers in Hamamatsu and to Tom O'Kane and his crew here.
"As always to live with the factory Hondas and Yamahas will be a tough ask tomorrow, but Álvaro has put himself into a great position and if he can get a good start who knows what can happen."
Popularity: 1% [?]