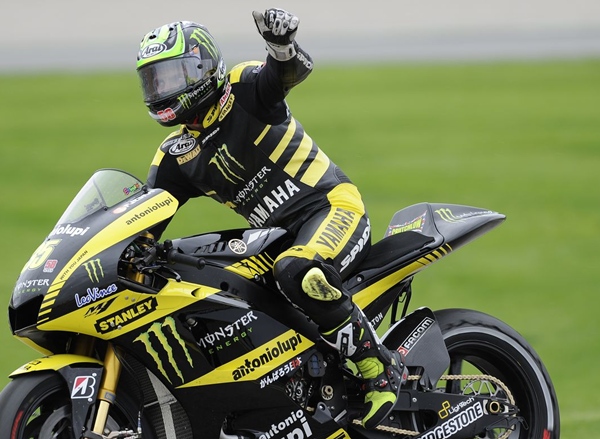 Cal Crutchlow secured the Rookie of the Year title after securing 4th place at the Valencian MotoGP.
Crutchlow started the race from 11th on the grid, but found himself running in the top 5 after Alvaro Bautista's crash took out Hayden, Rossi, and De Puniet.
Crutchlow then found himself locked in battle with Karel Abraham, the only other rider in contention for the Rookie of the Year title. The battle lasted until the very last lap and it ended when Abraham struck the rear of Crutchlow's bike and crashed off into the dirt.
Crutchlow will now remain in Valencia for the testing session that begins on Tuesday, where he will get his first taste of the Yamaha 1000cc, and will team up with his new Tech 3 team-mate, Andrea Dovizioso, for the first time.
Cal Crutchlow gives his thoughts on the Valencia MotoGP below:
Cal Crutchlow 4th – 70 points:
"That was a pretty dramatic way to finish the season and I am obviously thrilled to win the Rookie of the Year title. But I'm equally happy to have finished in fourth place because that was an incredibly difficult race. I'm not sure what happened at the first corner but I came out of it in sixth place and just pushed as hard as I could. It was a really intense battle with Karel right to the end and both of us were giving it everything we had. The track was so greasy it felt like you could crash so easily and when the rain started getting heavier I just got my head down again and kept pushing. I started to catch Dani really fast and I wasn't sure if he had a problem or whether I was pushing too hard. I slowed down because of that and Karel caught me back up, so it came down to the last lap and he obviously made a small mistake. He hit me from behind but I managed to stay on and to finish the season with my best ever result is a great way to start planning for 2012. This year has been an incredible learning experience and we have a lot to work on for next season, but I feel confident I can make the step to the next level. I can hold my held up high and now I am looking forward to getting my first experience of the Yamaha 1000cc bike on Tuesday."
Popularity: 2% [?]