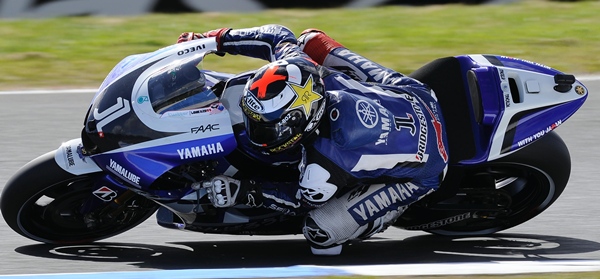 Jorge Lorenzo is not prepared to concede his World Championship to Casey Stoner just yet, despite stating that it will be difficult for him to win.
Casey Stoner needs a 10 point advantage in the championship standings to mathematically secure the 2011 World Title, and Jorge Lorenzo will try to keep the pressure on Casey Stoner for as long as possible.
Lorenzo came out fighting for today's qualifying session and was on the pace quickly, but it was not enpugh to hold off Casey Stoner and he eventually had to concede pole position to Stoner.
Ben Spies had a tough qualifying session, the American crashed out after suffering a high-speed low side on his third lap. Spies was taken to the clinic for check-ups and eventually returned to the track on his second bike. Despite heavy bruising, SPies was able to get himself into 7th place on the grid for tomorrow's race.
Jorge Lorenzo – Position 2nd – Time 1.30.448 – Laps 24
"We did a very good job today. We tried many things and I believe we have the right set up for tomorrow. I have to thank my team who worked hard to make sure I have the best possible bike to fight with. The race will be very tough, it will be very important to be consistent with a good race pace. I will try to win, I know it will be very difficult here with Casey but I will try!"
Ben Spies – Position 7th – Time 1.30.835 – Laps 20
"I got a little bit off line in qualifying this afternoon and hit a big bump, losing the front. It's unfortunate as we were trying a different bike set up which was looking pretty good. It happened on the third lap, according to the data I came off at 270km/hr so I went through the gravel trap pretty quick! My knees, ribs and elbows are all pretty banged up but that's normal, that's how it is. The bike is working well so we need a good start; we're in a good position on the grid for it so we'll see what happens."
Wilco Zeelenberg – Yamaha Factory Racing Team Manager
"A good qualifying for us, Jorge was more than half a second quicker than this morning's final practice so we are quite pleased. Again another strange session, some parts of the track lost some grip which seemed to affect everybody. We haven't decided on tyres for tomorrow yet but the bike feels good for him and we are looking forward to the race. It's going to be difficult to stop Casey but we'll do our best."
Massimo Meregalli – Yamaha Factory Racing Team Director
"The race is not going to be easy tomorrow. Jorge is starting from the first row which is important, I'm sure he won't give up until the end and he will have to put all his efforts in for the whole 27 laps. Despite a bad crash Ben managed to qualify in seventh. This wasn't so bad considering, as I didn't expect that result. He's very sore all over but he still pushed hard and did all he could. Tomorrow will be tough and painful for him but we know him and we know he will give 100%."
Popularity: 1% [?]