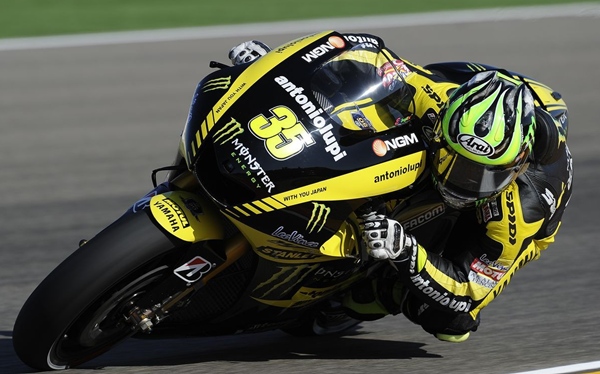 Cal Crutchlow just missed out on a third row start in Qualifying today at Aragon, but the British rider remains confident that despite starting in 12th, he can fight for a solid top 10 finish in tomorrow's race.
Aragon is another brand new track for Crutchlow and with the practice time lost due to yesterday's power cut, Crutchlow had to do some speed-learning in Saturday's extended practice session, before qualifying took place.
Colin Edwards also struggled on the Tech 3 Yamaha today and finished in 15th.
Both Tech 3 Yamaha riders give their thoughts on today's qualifying session below:
Cal Crutchlow 12th 1.49.893 – 25 laps:
"I don't think 12th place on the grid really reflects just how well myself and the Monster Yamaha Tech 3 Team have been performing this weekend. I've come to a new track and pretty much lost a session with all of yesterday's power problems and yet another couple of tenths would have put me in the top six on the grid. I am really happy with the way I'm riding and happy with my crew, who have done a great job again this weekend. The times are so close that 12th could quite easily have been sixth or seventh, but I'm still confident that I can race inside the top 10 tomorrow. It is going to be difficult because we've got a bit of a speed issue on the straight. I'm really strong in three sections of the track but in the last sector I'm a long way down the split times and that makes it quite difficult. It is not going to be easy to pass people but I'll get my head down and push as hard as I can to do the best job possible. The goal as always will be the top 10 and I'm looking forward to a good battle and picking up more valuable points."
Colin Edwards 15th 1.50.105 – 22 laps:
"That was a hard session to say the least and starting my 150th MotoGP race from 15th on the grid certainly wasn't in the plan. We've gone from qualifying seventh in Misano to 15th, so it is clear we've had a few issues this weekend. One is the bike isn't the fastest out there and I've not got a lot of rear grip. The moment I touch the throttle the rear tyre spins, and that combined with the engine means we simply aren't fast enough. I guess we've got to back to the drawing board tonight and see if we can come up with something, but it is going to be a tough race. Like I always do, I'll be going out and giving it my maximum effort for the Monster Yamaha Tech 3 Team and see how far we can climb up the order and score a few points."
Popularity: 2% [?]