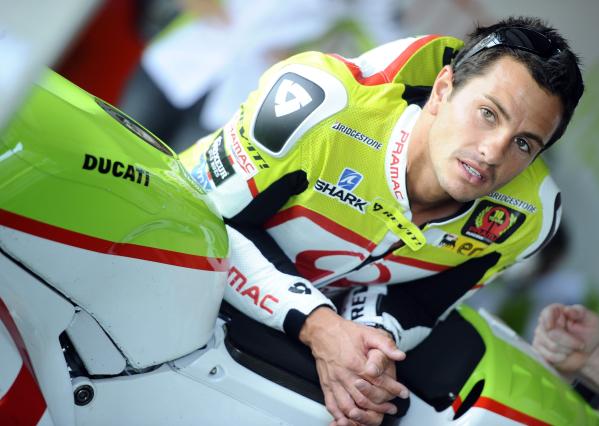 If you had glanced at the timesheets towards the end of the qualifying session at Aragon today, you would have been forgiven for thinking that there was a technical error, as Randy De Puniet was in third position on the Pramac Ducati.
But it was true – Randy De Puniet got off to a flying start at Aragon and reached as high a third on the timesheets before finishing the qualifying session in 10th. For a large part of the session Randy De Puniet was in formidable form on his satellite Ducati. His fastest lap of 1:49.826 even came on a hard tyre.
Unfortunatly for De Puniet, he was unable to find any faster laps when he switched to soft tyres, and slid back down to 10th position as the rest of the riders jostled for positions in some late surges.
Randy De Puniet – 10th:
"It's a shame how things went, but that's how it goes. I gave my all both this morning and this afternoon. I'm tenth, just a few tenths from the sixth and seventh positions. I wasn't able to do a lap like I needed with the soft tire; just consider that my best time was set with the hard. I would have liked to start from the third row, but anyway, my starting spot isn't so terrible. I'm convinced that I can have a good race."
Marco Rigamonti – Randy De Puniet's Engineer
"It's a shame, because we did a good time with the hard tire. Randy made a few mistakes with the soft tire, and he told us he could have cut off at least three tenths. We could have started from the third or even the second row. Anyway, the important thing is to start well tomorrow, in the race. The race pace is good, as is the rider's feeling with the bike."
Loris Capirossi – 16th:
"What a nice track, and even if the results suggest otherwise, I was able to improve my time quite a bit. Having one less session hurt us a little more than the other riders, who already knew the track. I'm sure that tomorrow I'll manage to further lower my time, and since we're all very close, anything can happen. For being here for the first time, it didn't go so badly."
Popularity: 2% [?]