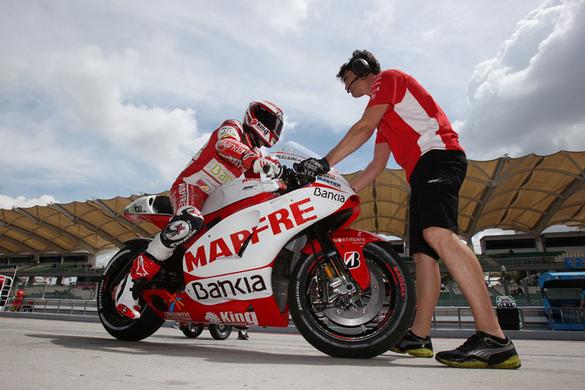 Hector Barbera has already raised a red flag about his performance this weekend – the Spanish rider struggled in qualifying today and was in pain from the injuries sustained in his crash at Twin-Ring Motegi.
Although it has not been officially confirmed by all parties, it is said that Hector Barbera has already signed to join the Pramac Ducati team for the 2012 season. Barbera's only other real option was to look at CRT offers, but he has decided to stay in the Ducati family as the sole rider in a one bike Pramac Ducati team.
A brave, but understandable move – however, I can't see Barbera getting too excited, or motivated at the thought of yet another season fighting for top 10 positions on tricky machinery. But if there is no place else to go, then I guess a move sideways is all you have.
Hector Barbera talks about today's qualifying session at Sepang below:
Hector Barbera:
"To be honest I am in a lot of discomfort. Hopefully it will improve as the weekend progresses because I can't race like this. I could only manage five laps this morning and it was tough to deal with the pain. I felt a bit better this afternoon but I needed an injection and even then it's tough. I didn't have much feeling on the bike but I guess that's normal," said Barbera.
"When you are in pain you try to adopt a more comfortable position and that unbalances the bike. I can't load the weight as I would like, I can't be aggressive. I came here because I felt good and the arm was responding well but the big problem is my ribs. I am going to work with the physio tonight to see if I can be in better shape tomorrow. Even though it was a tough day it was good to be back on the bike."
Popularity: 2% [?]