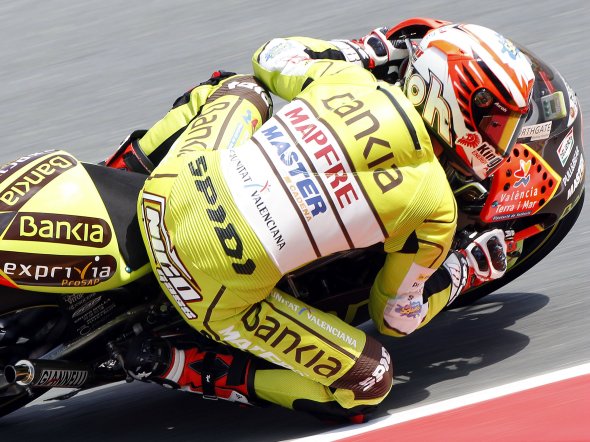 A windy 125cc race saw Nico Terol take his 8th victory of the season in front of his home fans in Spain.
Terol was mostly unchallenged throughout the race and the main action happened behind him in the battle for second place which was strongly contested between Faubel and Zarco.
As soon as it was clear that he had no real chance of victory, Faubel went into 'team mode' and did his best to make life difficult for Johann Zarco, and for the majority of the race he was successful.
Both riders exchanged places multiple times, but by the final lap, Zarco had the lead on Faubel. Faubel pushed hard to take by second place and made a lunge on the final turn – Faubel was unable to wash off his excess speed in the pass and lost control and slid into the gravel (almost taking Zarco with him).
Zarco was left to cruise home into a second place finish, with Maverick Vinales taking a lonely 3rd.
125cc Race results from Aragon
Nicolas Terol (18) – Bankia Aspar Team 125cc – 40.26.726
Johann Zarco (5) – Avant-AirAsia-Ajo +6.771
Maverick Vinales (25) – Blusens by Paris Hilton Racing +18.929
Luis Salom (39) – RW Racing GP +27.469
Efren Vazquez (7) – Avant-AirAsia-Ajo +27.472
Sandro Cortese (11) – Intact-Racing Team Germany +27.740
Danny Kent (52) – Red Bull Ajo MotorSport +27.750
Alberto Moncayo (23) – Andalucia Banca Civica +27.778
Adrian Martin (26) – Bankia Aspar Team 125cc +43.009
Jonas Folger (94) – Red Bull Ajo MotorSport +49.090
Marcel Schrotter (77) – Mahindra Racing +53.876
Luigi Morciano (3) – Team Italia FMI +56.395
Jakub Kornfeil (84) – Ongetta-Centro Seta +57.513
Alessandro Tonucci (19) – Team Italia FMI +1.07.215
Danny Webb (99) – Mahindra Racing +1.14.906
Sturla Fagerhaug (50) – WTR-Ten10 Racing +1.31.226
Manuel Tatasciore (60) – Phonica Racing +1.36.871
Giulian Pedone (30) – Phonica Racing +1.40.668
Damien Raemy (90) – Caretta Technology +1.58.898
Pedro Rodriguez (37) – Turismo de Aragon – DVJ +1 lap
Zulfahmi Khairuddin (63) – Airasia-Sic-Ajo +2 laps
Popularity: 1% [?]