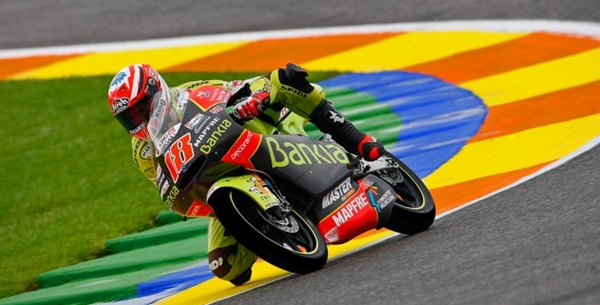 Mathematically the 125cc Championship still had some fight left in it….even though it was a long shot.
Johann Zarco went in to the race with a 20 point deficit on Championship leader Nico Terol, which meant that Zarco basically had to win, whilst hoping that Terol experienced difficulties during the race.
As it turned out, it was was Zarco that had the issues. After a good start, Zarco crashed out early, basically handing the Championship to Terol. Zarco tried to get his bike back up, but it was full of dirt and gravel. Race over.
Terol worked his way steadily to the front end of the grid, and the race developed into a battle between Nico Terol, Maverick Vinales, Sandro Cortese, and Hector Faubel.
It was Maverick Vinales who came out on top – he eventually managed to pull out a lead of a few seconds to take victory and become the last ever 125 GP winner.
Pole sitter Danny Webb managed to lead the first lap, but he was soon surrounded by the rest of the riders and by lap 10 he had slipped back to 10th place. His race would get worse, and Webb crashed out with 12 laps to go.
125cc Race Results from Valencia:
1Maverick VIÑALESBlusens by Paris Hilton Racing41'44.138
2Nicolas TEROLBankia Aspar Team 125cc3.216
3Hector FAUBELBankia Aspar Team 125cc7.46
4Efren VAZQUEZAvant-AirAsia-Ajo14.56
5Jonas FOLGERRed Bull Ajo MotorSport18.451
6Alberto MONCAYOAndalucia Banca Civica36.472
7Luis SALOMRW Racing GP52.614
8Niklas AJOTT Motion Events Racing+1'00.138
9Luigi MORCIANOTeam Italia FMI+1'00.253
10Louis ROSSIMatteoni Racing+1'03.258
11Manuel TATASCIOREPhonica Racing+1'09.892
12Marcel SCHROTTERMahindra Racing+1'12.741
13Alessandro TONUCCITeam Italia FMI+1'18.337
14John McPHEERacing Steps Foundation KRP+1'18.434
15Giulian PEDONEPhonica Racing+1'20.580
16Sturla FAGERHAUGWTR-Ten10 Racing+1'21.155
17Danny KENTRed Bull Ajo MotorSport+1'27.770
18Peter SEBESTYENMatteoni Racing+1'33.406
19Daniel RUIZLarresport+1'34.593
20Jasper IWEMAOngetta-Abbink Metaal+1'34.832
21Marco COLANDREAWTR-Ten10 Racing1 Lap
22Alexis MASBOUCaretta Technology1 Lap
23Kevin HANUSTeam Hanusch1 Lap
24Jakub KORNFEILOngetta-Centro Seta1 Lap
25Zulfahmi KHAIRUDDINAirasia-Sic-Ajo3 Laps
Adrian MARTINBankia Aspar Team 125cc+2'16.952
Not Classified
Taylor MACKENZIEPhonica Racing6 Laps
Brad BINDERAndalucia Banca Civica7 Laps
Josep RODRIGUEZBlusens by Paris Hilton Racing9 Laps
Sandro CORTESEIntact-Racing Team Germany13 Laps
Danny WEBBMahindra Racing13 Laps
Harry STAFFORDOngetta-Centro Seta17 Laps
Jack MILLERCaretta Technology21 Laps
Johann ZARCOAvant-AirAsia-Ajo22 Laps
Popularity: 1% [?]