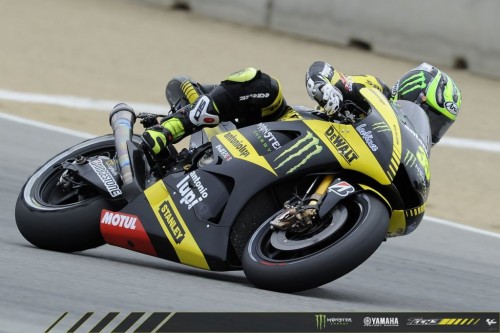 Monster Yamaha Tech 3 Team riders Cal Crutchlow and Colin Edwards will start alongside each other on the fourth row of the grid for tomorrow's US Grand Prix.
Crutchlow will start from 10th position after posting a fastest time of 1.22.385 in a sun-drenched qualifying session, the British rider gaining vital knowledge of the Laguna Seca track while also working on the set-up of his YZR-M1 machine to improve rear grip.
The 25-year-old put in 31-laps to help him get a clear understanding of whether he will race the soft or hard compound Bridgestone rear tyre in tomorrow's 32-lap encounter, and he finished just 1.183s away from pole position.
Crutchlow's performance today lifted his confidence levels and he is determined to challenge for his first top 10 finish since he was a brilliant seventh in the Catalunya round near Barcelona in early June.
Starting from one place further back on the grid will be Edwards, who has been overwhelmed by the support he's received from the American fans this weekend.
The popular Texan worked tirelessly throughout today on his YZR-M1 settings and like Crutchlow, he dedicated the majority of his efforts on improving rear grip. The final result on the timesheets though was not what Edwards was expecting and his time of 1.22.520 left him 11th quickest.
Edwards is still fired up and determined to fight for a top result tomorrow having finished seventh at the California track for the last two years.
Cal Crutchlow 10th 1.22.385 – 31 laps:
"I'm pretty happy to be in the top ten and I managed to pull something out of the bag when I needed it right at the end of the session. My race pace is only a couple of tenths off running in the top eight, so I need to get a good start. I'm still not sure what tyre to run. Lorenzo can run the hard tyre because he is so smooth, but we're torn at the moment which one to choose. I think I'll probably go for the hard tyre but we'll check the setting and make sure we can be consistent. It is a long race here so the soft might not be the best option over race distance. The track today seemed to be in much better condition. Yesterday I was doing 24s but now I'm doing low 22s but that's also because I'm gaining more experience of the track. I still need to change my style a little but on a track you don't know it is difficult to do that. Hopefully when we get to Brno that I know, I'll feel more comfortable to be able to work on my technique because some things I do on the bike don't help in the hot conditions. The goal tomorrow will be to finish in the top ten and get out of here with some experience and some solid points under my belt. It would also be good to have a battle with some guys as well because that helps you learn and pick up experience."
Colin Edwards 11th 1.22.520 – 31 laps:
"It just wasn't happening out there today at all and I'm not really sure why. The last thing I want is to be outside of the top ten on the grid for my home race, but I put in my maximum effort and I was still finding it really hard. I'm not where I am through a lack of trying but I just don't have the rear grip I need. It is spinning a lot and we made some changes to the bike for this afternoon but it didn't improve the situation. We know the bike is better than what we had last year but I couldn't even match my qualifying time from last year. And that is what makes it really strange to understand. The rear is still too nervous and twitching around and it isn't a lot of fun out there at the moment. The bike as it is set-up right now is not working, so we'll have a sit down tonight and go back to the drawing board and come up with a plan for the race tomorrow. I can assure the American fans I'll be going out there and giving it 100 per cent and pushing as hard as I can to get a good result for them because their support has been amazing so far this weekend."
Popularity: 1% [?]