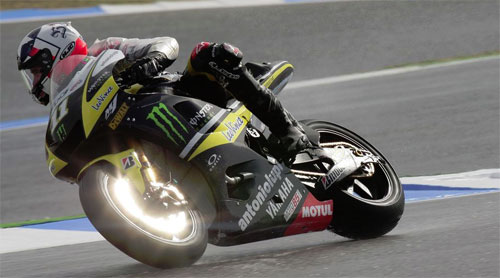 Ben Spies was back in 'student' mode today as he encountered the Estoril track for the first time in his MotoGP career. Spies seemed to get to grip with the track pretty swiftly considering that track-time was shortened by heavy rain and managed to finish the second free practice session in 5th place.
Colin Edwards was looking pretty solid until a crash ended his session early with 15 minutes to go.
Both Tech 3 riders comment on today's MotoGP action in Portugal.
Ben Spies 5th 1.49.721 – 21 laps
"Today didn't start off well with the heavy rain this morning and it just wasn't worth going out and taking any risks. This afternoon was much better but it was still full wet conditions. It makes it really hard having to learn a new track when the conditions are wet. You just don't know what the grip is like or where the strong points of the track are and for the first part of the session it was a bit like riding blindfolded. I tried to follow a few people and I got a good feeling pretty quickly though and to be top five on my first day in those conditions is something I'm really happy about. There were a few tricky spots out on the track today and that made it difficult without me fully understanding the limits. A few guys were caught out but I didn't really have any moments and I'm looking forward to a positive weekend after a strong start."
Colin Edwards 12th 1.53.510 – 11 laps
"The session started really good. I felt confident on the bike immediately and was right at the front for a while. This track is kind of funny because it looks really slick but there is actually a lot of grip and obviously Yamaha has got a really good rain setting because Jorge, Valentino and Ben are all in the top five. I'm sure I could have been up there too but I made a small mistake before the chicane. I drifted a little bit wide and all of a sudden the rear stepped out. It came back and I saved it but looked up and saw the wall on the other side of the gravel trap, so I just threw myself off the bike. I banged my left hip but I'm going to be fine for tomorrow."
Popularity: 1% [?]