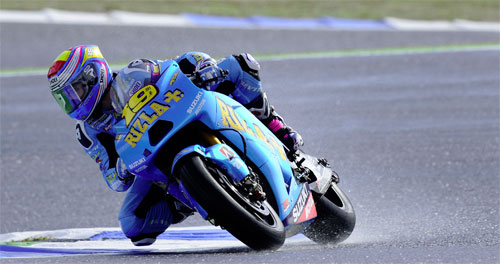 Despite carrying injury, Loris Capirossi managed to bank a top 10 finish in the wet and windy conditions in the day of practice at Estoril.
Alvaro Bautista fared less well and suffered a spectacular highside as the rear of his GSV-R lost grip on a right-hand bend and flung him off. He managed to walk away unhurt.
Both riders comment and reflect on their experiences on a challenging day in Portugal.
Loris Capirossi:
"Today has been ok when you consider what it was like this morning. When I saw all that rain I was a bit angry, because it would have been a lot harder for me to ride in those conditions. I use my body more in the wet and I have to push down a lot on my feet so this was going to be a problem, but the feeling was not too bad and it felt much better than in Australia. We have improved a lot since the last time out and we continued to improve in the session. I am only in 10th position, but quite happy because we were quite close to the top throughout the session and for us this is good. At the end, as the track improved, I came in to fix some things and the bike was ready just a couple of minutes before the end, but the conditions were changing so quickly it wasn't worth going out because it was too risky. I hope that we can have a positive weekend here in Portugal – we really need it!"
Álvaro Bautista:
"Today has been a strange day because it was impossible to ride this morning due to so much water on the track – it would have made it very dangerous out there. This afternoon it was still very wet, but at least we were able to go out. During the session I improved my time step-by-step, but I felt that the bike didn't quite have enough grip as I entered the corners. I tried to push a bit harder, but the grip stayed the same so I pushed a little bit more each lap and at the end I lost the rear and could do nothing to stop the crash. The important thing is that I am ok and we will see tomorrow if we can improve this problem with grip, because it is making it difficult to go fast."
Popularity: 1% [?]