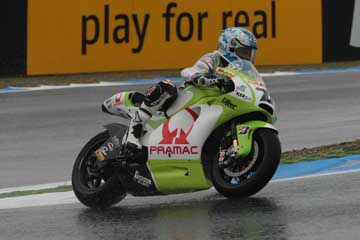 What a difference a few days can make, Carlos Checa was top of the time-sheets at Aragon testing the 1198R and now finds himself at the bottom of the time-sheets on his return to MotoGP on the Ducati GP10.
Carlos Checa also had to contend with horrific weather conditions that reduced his track time and gave him less data to work with in order to get himself up to race pace.
Checa talks about his first full day as a returining MotoGP racer:
Carlos Checa 17th fastest time in 1'54 .444
"There couldn't been worst weather conditions for my return in the MotoGP world. Too bad because the rain did not allow me to do many laps as I wanted. This morning tests were completely useless, the water on the track was really too much. There is a huge difference between the Superbike bike that I was able to ride during this year and the MotoGP bike of the Pramac Racing Team, but despite the difference I was able to improve my pace lap after lap. I need time to get used to this new bike that I've tested only during a short test on Mugello track, but in completely different conditions. I hope that I can run as much as possible tomorrow morning and improve the feeling with the bike."
Team-mate Aleix Espargaro, who looks like competing in Moto2 next season, finished in 14th.
Aleix Espargarò 14th fastest time in 1'53 .769
"I do not have really much to say, today's weather conditions haven't certainly helped me this morning. I was the first rider to exit from the pit lane, but the track was really full of water and with lots of puddles. During this afternoon we worked on the bike setting, we had two alternatives to be developed. We've got the possibility to try them both and define which gives more guarantees of performance. It will be vital for me to stay on the track as much as possible during the third free practice tomorrow in order to reduce as much as I can my lap pace."
Popularity: 1% [?]