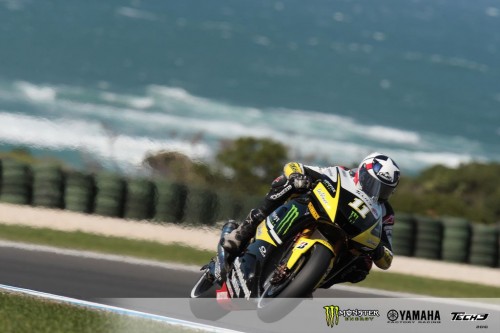 Ben Spies claimed a hard fought fifth place in the Australian Grand Prix and secured the coveted Rookie of the Year award. Spies will also now finish as the top non-factory rider in 2010.
Spies was in the thick of the action, in an otherwise fairly mundane MotoGP race, as he battled for 5th place with Nicky Hayden and Marco Simoncelli. Spies made his job harder on lap 8 by missing his braking point and running wide on the first fast turn – a mistake that dropped Spies to 6th position. Spies managed to regain his composure and rhythm and eventually took 5th place back from Marco Simoncelli on lap 23.
Hayden and Rossi were too far ahead for Spies to mount a challenge for 4th.
Colin Edwards finished in 7th position and now only needs 3 more points from the last two races to secure a top 10 finish in the championship standings.
Ben Spies 5th – 163 points
"Jorge and I got super close coming out of the first corner and he almost touched my brake lever. It made me run wide in turn two and a couple of people came by. It didn't ruin the race but it ruined me building up some momentum. I fought my way back into third and was pretty comfortable when I ran wide at the first corner on lap seven. I got in there a bit hot and the rear came round. Everybody got a run on me and came by and dropped me back to sixth. I then had a good battle with Simoncelli. I kind of towed him around and he picked up his pace and came by me. Once I knew nobody was behind me, I just waited until a few laps from the end to push and pass him back. I made sure I got a decent gap and chilled out in fifth. At the end I was running times that if everything had gone smoothly, I feel like we could have battled for the podium. Towards the end of the race I was running similar times to those ahead of me and that's all I can do. I'm happy to be Rookie of the Year too. I beat a lot of good guys for that and it will be an achievement I can be proud of at the end of the season. I've had some good results on this three-week stretch and I'm now looking forward to the last two rounds."
Colin Edwards 7th – 90 points
"The pace I'd run all weekend was pretty much the pace I was able to run in the race. Conditions changed so much over the weekend that we never really got enough time to work on finding a decent set-up. I was confident going into the race and got a decent start but pretty much from the second corner I was having some spinning from the rear tyre. I tried to adjust my riding style because I didn't want to lose contact with the group in front of me. I settled into a comfortable rhythm but I just couldn't go any faster. I was trying different lines but I couldn't enter the corner like I wanted to. My speed was basically dictated by what the rear was doing, but we'll look at the data and figure a few things out for the final part of the season. I want to thank my guys at Monster Yamaha Tech 3. This has been a tough period of the season but we've worked really hard together and I'm happy with the way I've performed. Congratulations to Ben too for getting Rookie of the Year. He's rode awesome all year and he's beaten a lot of good guys to achieve that."
Herve Poncharal – Team Manager
"Ben's amazing season just gets better and better. To win the Rookie of the Year title with two races to go is a fantastic achievement for him and all of his Monster Yamaha Tech 3 crew. A lot of very talented riders came from the 250cc class into MotoGP this year and they knew all the tracks, which Ben didn't. He's done a magnificent job and done it with another impressive top five finish. Simoncelli never gave up but Ben was too strong for him and showed how strong he is on used tyres. Without a couple of problems in the early laps, I think he could have battled with Valentino and Nicky for the podium. I'd like to thank Colin for all his efforts in this run of three races because he has been very consistent, qualifying very well and showing strong form in the races. He might have expected to be a bit higher up today but he never stopped pushing and I'm delighted with his attitude. Congratulations to Yamaha too on winning another Triple Crown for the third year in succession. The competition is so high in MotoGP and that is an amazing accomplishment."
Popularity: 1% [?]