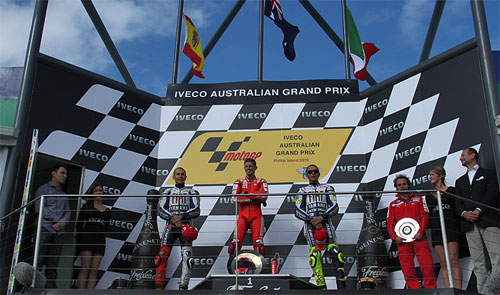 Casey Stoner led from start to finish to claim another MotoGP home victory in Australia.
Stoner was untouchable and had stretched out a lead after only a few turns of the first lap. Jorge Lorenzo tried to chase him down, but he could only watch as Stoner became a red dot in the distance. Casey Stoner eventually won by a gap of 8.598 seconds and the victory marked his 4th straight Aussie MotoGP win.
Nicky Hayden also had a good race and entertained the fans by getting into a scrap with his 2011 team-mate, Valentino Rossi. Hayden narrowly lost out in the battle and finished 4th.
Both factory Ducati riders give their reactions to the Phillip Island MotoGP below:
CASEY STONER (Ducati Team) 1st
"This feels really nice. I think when I won two in a row here nobody expected me to make it three but having done that I felt there was a lot of expectation on me today. To be fair we have been going for the win at the last four races – unfortunately I slipped off on the first lap at Sepang but we've made up for that this weekend. Everything has gone well for us, we have been happy with the bike from the first practice and the support from the fans has been fantastic. I have to admit that before the race I was feeling the pressure, I was more nervous than I normally am but maybe I should be like that more often because I didn't make mistakes! I am really happy with the way I rode today but every single person in the team has done a great job this weekend so my thanks go to them and I hope we can keep it going to the end of the season."
NICKY HAYDEN – (Ducati Team) 4th
"It was a good, hard battle in the sunshine and I am very disappointed to have lost. It would have been a lot cooler if it was for the win but fighting with Valentino Rossi for any position is never easy. We made a few changes to the bike today but this morning in the warm-up I ran off the track and we missed the opportunity to try them, so it took me a few laps just to get used to the bike. I have to say the team did a fantastic job because once I got going it felt great and I was able to recover the gap. I don't want to make excuses or be a cry baby and say 'maybe if I did this or that it would be different' because the bottom line is I got fourth, I got beaten. I feel down because this is a track I love, I felt good and to beat Rossi on the last lap would have been really good for me but I can't dress it up. I feel like I let the team down today because they gave me the bike to do the job but I didn't get it done."
VITTORIANO GUARESCHI – TEAM MANAGER
"Casey was simply incredible this weekend. He was fast from the start here in practice, he took pole position, set an unbelievable pace in warm-up and then produced a frightening race. We don't know where his true limit was today because I think if he needed to he could have won by an even bigger margin. Nicky also had a great race – he was fast, determined and he only missed the podium by 0.038 seconds to Valentino. At Aragon he won a similar battle, today he lost, but the important thing is that he was there, riding as he was and in a position to fight for the podium. Our bike is working really well now – I would say we have found the right balance for it over the last five races and now we have two left that I think we can do well in."
Popularity: 1% [?]