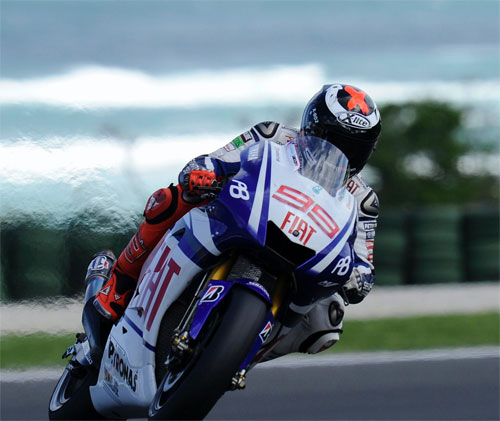 A double podium for the Fiat Yamaha Team today sealed the second leg of the 2010 Triple Crown, as World Champion Jorge Lorenzo finished second and Valentino Rossi third behind winner Casey Stoner in the Australian Grand Prix at Phillip Island.
After a sopping wet weekend the weather finally cleared up today, as the sun came out and temperatures rose above 15 degrees for the first time. Lorenzo got a good start into turn one, losing one place to Marco Simoncelli but passing the Italian back soon after to retake second. As the World Champion had feared however he was unable to match Stoner's pace today, despite trying his best in the early stages. Once he realised he could not catch the Australian he contented himself with an uneventful but enjoyable race, unchallenged throughout to finish in second place. It was the 23-year-old's 50th start in the MotoGP class and his 32nd podium from those races.
A small set-up tweak in warm-up had left Rossi slightly more hopeful of his chances today but the nine-time champion was left with all to do when he dropped to ninth on the first lap. He gained two places on the next three laps and on lap five found himself on the end of a four-man group in sixth, with third in his sights. He dealt with Simoncelli first, passing his countryman on the brakes into turn one, dispatched Nicky Hayden on lap seven and then fellow Yamaha man Ben Spies on the eighth. His task was not over however and he had his work cut out to hold onto the final podium spot with Hayden hard on his heels. On the third last lap the American got by the Italian but a brilliant last-lap move from Rossi secured him an incredible 13th podium in 14 years at Phillip Island.
Stoner's win means Rossi slips one place to fourth in the standings, with a deficit of eight points from the Australian. After a hard three weeks the paddock now heads home for ten days, with Jorge Lorenzo due to take part in a parade through his home city of Palma de Mallorca on Wednesday when he returns victorious as the new World Champion. Today also saw American Tech 3 Yamaha rider Ben Spies, who will join the Factory Team in 2011, secure the Rookie of the Year title.
Jorge Lorenzo – Position: 2nd Time: +8.598
"We knew Casey would be hard to beat today! I tried my best, riding as hard as I could at the start and occasionally it seemed like I was closing a little bit, but then on the next lap Casey would extend his lead again by a few tenths. I kept trying but I didn't have much hope and half way through I decided it was better not to take risks. I really enjoyed riding here and sliding a bit on my M1, it was fun but this was Casey's race today. It was good to be on the podium and now we are heading back and I have my first chance to go home to Mallorca as World Champion and to celebrate with my friends and family. Today we won the Teams' Title and this shows what a great season it has been for us all, with everyone working at the maximum."
Valentino Rossi – Position: 3rd Time: +17.997
"To start eighth and finish third is not a bad result and, considering the trouble we had this weekend, we can be happy. Today Casey was riding in a different sport and I want to say congratulations to him – the podium was the maximum for us but it was still a hard fight to get there. We made some good changes to our set-up this morning and I knew I had a better chance, but we still lacked grip and the bike started to slide a lot after a bit. I had great fun with Nicky at the end because in some places he was faster than me and I really had to push, but the podium here is so important for me and I couldn't give it up easily. This is my 13th podium in 14 years racing at Phillip Island and I am very proud of this record. We have had three podiums in a row, including one win, and after this difficult season I am happy about this. Today we won the Team title and I am happy for us all and for Yamaha."
Wilco Zeelenberg – Team Manager
"Today the podium was the most we could do. Jorge tried his hardest at the start and his lap times were quick; we had a good set-up today but Casey was just faster than us. Jorge really enjoyed himself out there and he had a big gap behind him so it was a successful day. Considering the difficult circumstances we've had all weekend we can be satisfied with what we've achieved. We are happy to win the Team title and now we are going home, finally, and everyone deserves a good rest!"
Davide Brivio – Team Manager
"This morning we did a good job and we were able to find a much better setting. Unfortunately the difficult conditions this weekend and the bad luck we had in qualifying yesterday meant that we were starting from the third row so we had a big job to do. Valentino did very well to get this podium. These three races have gone well for us and we're heading back to Europe satisfied. Congratulations to the whole team tonight for another Team Championship."
Popularity: 1% [?]