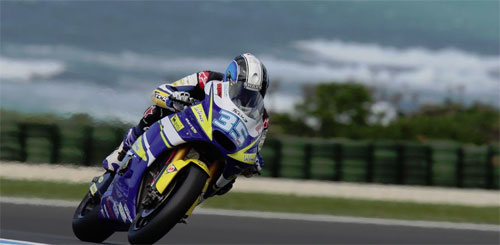 Raffaele de Rosa and Yuki Takahashi ended a gruelling run of three flyaway races in a row in disappointing fashion today, the Tech 3 Racing Moto2 riders just unable to break into the points in an exciting Australian Grand Prix.
Starting from the second row of the grid for the first time since the opening round in Qatar, de Rosa made a flying start and found himself fifth at the end of a frenetic opening lap of the Phillip Island circuit.
The Italian then starred in one of the most exciting and intense battles of the season, de Rosa locked in a pulsating ten-rider tussle that kept a windswept but captivated crowd of over 41,000 fans on the edge of their seats until the chequered flag. He was able to keep new world champion Toni Elias at bay with some aggressive riding in the early stages. But a determined effort went largely unrewarded, de Rosa unable to keep himself in contention for a maiden top ten finish and he eventually dropped down the order to 16th.
Takahashi was one place further back, the Japanese rider bringing his Tech 3 Racing machine home in 17th place. The superb battle for seventh was played out just ahead of him for the opening half of the race, Takahashi frustratingly not being able to get close enough to involve himself in the overtaking spectacle.
Raffaele de Rosa 16th – 5-points
"I expected a lot more from today after qualifying on the second row. I made a fantastic start and got up to fifth and I was having a lot of fun. To be in a group battling like that was amazing but unfortunately I was unable to keep my strong pace. We made another step with the bike before the race but everybody else did too, and I was just lacking some confidence in the front when I really wanted to push. I can do the lap time no problem when I'm on my own but in a big group when you have to change lines, it becomes harder. I'm disappointed but we'll never give up and as ever I'll work hard with my Tech 3 Racing crew to find a solution that will allow me to finish the season strong."
Yuki Takahashi 17th – 86-points
"I was hoping for a better result today. It is always going to be difficult to get into the top six from 19th on the grid but I was confident I could make some overtakes and fight through. I lost contact at the beginning and it was a bit frustrating because for a while I could see the big battle in front. I tried everything to get close but couldn't and that's a shame because it looked like a lot of fun. I struggled a bit with the front feeling again. Hopefully we can find some solution to finish the season strong in Estoril and Valencia."
Herve Poncharal – Team Manager
"That was a really exciting race to follow and there was a lot of intense but fair fighting all through the field. I don't think the Australian fans were disappointed with their first experience of Moto2. For the Tech 3 Racing Team it was a bit of a disappointing outcome, particularly for Raffaele who was incredible in the early laps. He was fifth and fighting at his maximum, so to see him finish outside of the points is quite disappointing. Yuki also tried his best but it was not an easy weekend to find a good set-up with the conditions changing a lot. He never gave up gained a lot of information that can help us for the final two races."
Popularity: 1% [?]