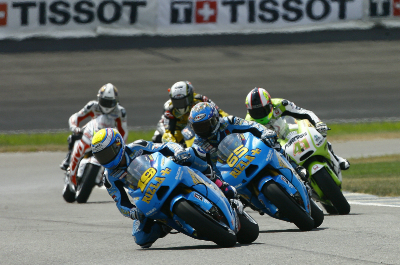 Before the start of the US GP weekend, Alvaro Bautista had set himself the relatively basic goal of simply completing the weekend without incident . At the start of the race Bautista's luck hadn't markedly improved as he found himself boxed in and instantly dropping to 14th position, leaving him with a battle on his hands if he wanted to secure decent points.
Bautista managed to find his pace and a combination of overtaking moves, coupled with some riders in front of him crashing out left him fighting for 7th position with his old 250cc adversary Marco Simoncelli. Simoncelli was able to hold off Bautista to claim 7th, and Bautista had to settle with 8th.
Loris Capirossi missed out on a top 10 finish after coming second best in a fight with Hector Barbera that saw Capirossi get nudged wide, leaving him to settle for 11th position.
Álvaro Bautista:
"It was a hard and very difficult race because it was so hot that you could feel the heat coming from the bike and from the ground. It made it a very physical race, but that was also a good test for me to see how my body had healed and at the end I still felt strong. I lost a few places at the start, but I was able to overtake other riders very quickly and I got behind Kallio and decided to follow him because he had a good rhythm and I didn't want to use all my energy with a long race ahead. We caught up to Simoncelli and I knew I was faster than Kallio so it was better to pass him and catch Simoncelli on my own. I saw two points on the track where I could then get past Simoncelli, but they were both very risky because they were very bumpy. I tried to get past in turn 10 but it was just too dangerous to go past because it was so bumpy and I wanted to finish the race – as it had been a long time since I'd done that. I finished in the top 10 and we did a good job through the whole weekend. This morning we made a big change in the gearbox and that worked very well for me. I am happy with the weekend and the team worked fantastic, we have another race next week and I'm looking forward to that already."
Loris Capirossi:
"Sometimes the feeling in our bike is not too bad and sometimes it is difficult to ride, today it was very difficult and I didn't really have any feeling in the front tyre and this has been a problem I've had many times this year – sometimes causing me to crash. It's really difficult to find the limit, but it's not that easy to just find the solution. Today I tried to keep my pace – which was not as fast as I would want it to be – and at the end I tried to attack Barbera. I got past him, but on the last lap he came in a bit too crazy and hit me and put me onto the grass, so I lost 10th position. I am a bit upset about today's result because the bike has been up and down all weekend and today it was not so good. Everybody tried their hardest this weekend and that is very important, we now need to move on and see what happens next time."
Tom O'Kane – Álvaro Bautista's Crew Chief:
"Álvaro rode a really solid race today, at a track that hasn't been very good to us in the past, so that is a very promising thing to take forward as we move to tracks where our bike has gone better. We are really happy to get a finish and get through a whole race weekend without the dramas that we have had recently. Álvaro made a big change to his gearbox this morning in the warm-up and we were able to see an improvement in his lap-times immediately – especially in the second sector of the lap – and he adapted to the different pattern of the box very quickly and that also showed in the race. Overall he rode a good race and had a tough battle with Simoncelli, it's neither here-nor-there whether he got past him or not, but it was very important to get into the top-10 and for him to come away from here with a lot more confidence in his own ability and that of the bike."
Popularity: 1% [?]