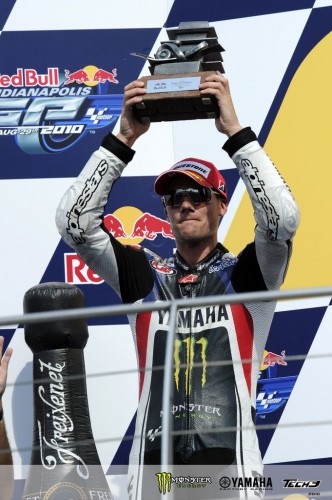 Ben Spies had his best weekend to date in MotoGP – he secured his maiden MotoGP pole position for the race, and then managed to comfortably finish in second place, claiming his best MotoGP victory to date.
Spies was beaten by Dani Pedrosa who looked unbeatable on pace.
Ben Spies talks about the US MotoGP below:
"I'm really happy to have got my best result in MotoGP in front of the American crowd and at a track as famous as Indianapolis. I always said I wanted my best result in my home race, so it's mission accomplished. After the pole position I got a great start and it felt good to be out front for the first time in MotoGP. But I didn't have the pace for Dani today and he rode a great race. I'm happy because I didn't make too many mistakes when I was out in front and I was consistent for the whole race. When Dani passed me I knew I couldn't follow him, so I let him go and concentrated on keeping a gap to Jorge in third and that's what I achieved. I can't complain because it was a great weekend and to be top Yamaha rider when you look at who else is on that bike is pretty satisfying. It hasn't sunk in yet that I've finished second in my home race. But I'll enjoy it before I hop on a plane and try and do it again in Misano next weekend."
Spies' team-mate Colin Edwards had a weekend to forget and failed to complete the race after being unable to get his tyres working.
Colin Edwards DNF
"I went for the hard tyre because I'd done a 41.6 on that tyre on Friday and felt pretty comfortable and confident. I'd not been able to make the soft tyre last close to race distance. I'd started to have a problem after eight or nine laps with it, so with the temperature and humidity coming up I was getting excited about using the hard tyre. But I had a problem with edge grip from the start and I was having an issue turning. I was riding on the limit but way off the pace so I pulled in for the softer tyre and did a few laps and my lap times were immediately better. The tyre choice cost me today but congratulations to Ben. He's just riding at an amazing level and second in this field is something to be proud of."
Herve Poncharal – Team Manager
"That was a fantastic weekend from Ben and he delivered an unbelievable performance for the American fans. We could not have hoped for more and he showed why we are so sad to see him leaving us to join Yamaha's factory team next season. But I'm happy for him though because clearly with the factory team he will be with the top four. His pole position yesterday was incredible when you consider how tough it is to achieve that against such a high level of competition. He got an incredible start and he was very strong at the beginning of the race. Only Dani could match him and pass him but Ben rode immaculately and it never looked like Jorge was going to catch him. It wasn't the race Colin was expecting and unfortunately his decision to run the hard tyre didn't pay off. Conditions were very demanding but it was clear when he switched to the softer tyre that he had the pace to have scored possibly his best result of the season."
Popularity: 1% [?]