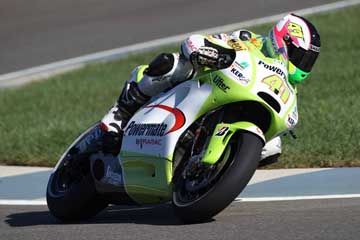 The Pramac Ducati team reflect on a US GP that saw Aleix Espargaro claim another Top 10 finish, and Mika Kallio suffer a fall caused by the bumpsy surface at Indianapolis.
Fabiano Sterlacchini – Technical Director
"Too bad about Mika's fall, he was having a very good pace that would allow him to fight with other riders for the seventh position. After Brno's fall he aimed to achieve a good result on this track, but unfortunately he had found a hole in the asphalt that saw him lose his front tyre. I'm happy for the ninth place that Aleix had gain, he has returned in the top ten after a difficult period. During this morning warm up we tried some solutions on both bikes that allowed the riders to be fast in all points of the track, we had positive feedback that would lead to a double top ten."
Aleix Espargarò – Pramac Racing Team – 9th
"It's so hot here, I did a sauna inside my leather suit, I had never run with a similar weather condition. I'm really exhausted after this race but very happy to have finished my race in the better way. I was able to start very well and to not lose positions, in the early laps I tried to get my rhythm and overtake the other riders. On the fifth lap, I both overtake Capirossi and Edwards and I sewed up the gap with Mika. Unfortunately I could not have a lap pace that would allow me to be with the others. With the heat the track had became very slippery, during the last laps I tried to complete my race without taking unnecessary further risks. After the summer break I came back in a perfect shape, I cannot wait to race on Misano's, which is one of my favorites.
Mika Kallio – Pramac Racing Team – DNF
"What a bad luck, this is not the right way. I had start a lot better than usual, at the end of the first lap I had conquer three positions. Then thanks to the drop of some riders and to the overtake that I had made on Bautista, I was riding in eighth position with almost four seconds behind Simoncelli. During the eighth lap I was passed again by Bautista, who was faster than me at that time. Together we started to run with a very fast pace and in seven laps we sew up the gap we had from Simoncelli. I was fighting with Simoncelli and Bautista for the seventh position, but in a curve due to a hole in the asphalt I have instantly lost the front tyre and found myself with my face on the asphalt. I could easily fight with the others for the seventh position or at least I could gain a top ten position. I am very disappointed with how things went, but as so often is happening during this season for one reason or another I cannot get the results I deserve."
Popularity: 1% [?]