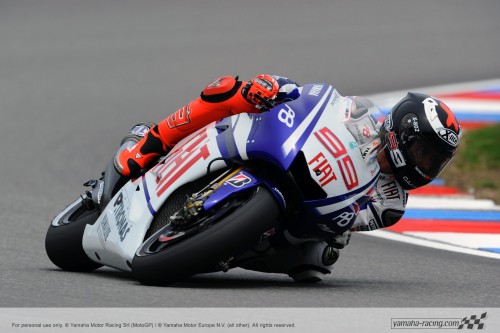 Jorge Lorenzo took his 7th win of the season at Brno this weekend and is threatening to break records for the most points gained in a season if his form continues like this.
Valentino Rossi fared less well and finished 5th.
Fiat Yamaha will hit the track again today as testing commences, but Valentino Rossi will not be taking part due to the confirmation that he will be a Ducati rider next season.
Jorge Lorenzo – Position: 1st Time: 43'22.638
"After my problems yesterday and the crash I didn't expect this today, I thought it would be much more of a struggle. Once I got to the front I expected Dani to come with me and I knew it was my moment and that I had to push as much as possible. I thought he would try to overtake me but I felt good, pushed hard and little by little I was able to lose him. I know I said I was riding for the championship now and that's still true but when there's the chance to win I have to take it! To take my seventh win in one season is fantastic, thank you to all of my team for such a good job after we had difficulties yesterday. Tomorrow we have an important test which we hope will help us in the last part of the championship and then we go to Indianapolis, a track that I love."
Valentino Rossi – Position: 5th Time: +17.930
"We are really disappointed tonight because we had hoped to do a good race and I was confident that I could challenge at the front today. It seemed everything was right and yesterday we had a good pace but today we just weren't as fast and I couldn't stay with the leaders. We are sad but tomorrow we will have the chance to test and try to understand what went wrong today, which will help us to be in better shape in Indianapolis. As for my future, you will know something at 6pm today."
Wilco Zeelenberg – Team Manager
"A surprisingly good result because after the crash of yesterday and Dani's speed in qualifying we had some doubts about today. Jorge really stuck his neck out to put in a great first half of the race and actually Dani couldn't stay with him. The lap times were equal or even slower to yesterday so we didn't make a huge change to the bike, so we really have to put this down to Jorge doing an excellent job and the others struggling a bit today. Well done to everyone for another great weekend."
Davide Brivio – Team Manager
"Unfortunately during the race Valentino never felt good with the front and this made it very difficult for him in corner entry. Luckily we have a test tomorrow so this will give us the chance to really investigate what happened. We had a good pace throughout the weekend and we hoped to be able to stay with Lorenzo and Pedrosa but we weren't able to today so we're a little bit disappointed. Tomorrow will be a good opportunity for us to improve and work towards our target of a good end to the season."
Popularity: 1% [?]