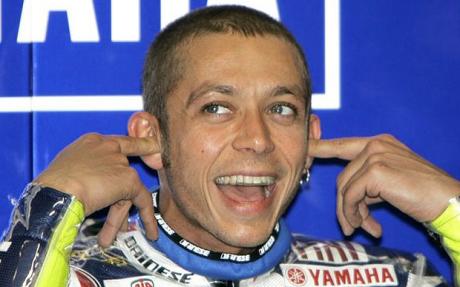 Ducati finally confirmed that they have agreed a 2 year deal with Valentino Rossi, who will replace Casey Stoner in the factory Ducati team for 2011.
The announcement was made at 6pm today (Sunday 15th August 2010) – Monday is a national holiday in Italy, so Italian journalists will not be able to document the biggest Italian sports story in years in the printed press, and will be turning to websites instead to document, digest and speculate on the ramifications of the announcement.
No announcement was made about the future of Rossi's mechanics, so it is unknown at this stage if they will be following Rossi to Ducati. The only communication on this subject was made via Alex Briggs on his Twitter account which read:
"So seems like the next question is am I & the team also going? I started as a bus mechanic 24 yrs ago. Have been involved in GPs 18 yrs. I am now lucky enough to be offered a choice as to where I may work next year when many people just want an opportunity 2 work. I will tell you when I can what I will be doing. I'm afraid that time is not now. Alex."
See the official Yamaha Press release and the Valentino Rossi press release below with quotes from Lin Jarvis and Rossi.
YAMAHA AND VALENTINO TO PART COMPANY AT END OF 2010
Yamaha Motor Co., Ltd. would like to announce that the partnership between Valentino Rossi and Yamaha will come to an end at the close of the season, when Valentino will move on to new challenges.
Yamaha and Valentino have enjoyed seven fantastic seasons of racing, during which time they have won four MotoGP World Championships together.
Valentino has played a huge part in the history of Yamaha and he will always remain an important part of Yamaha's heritage. Yamaha is extremely grateful for Valentino's contributions to its racing successes over the past seven years and it would like to wish him the very best in his future racing endeavours.
Yamaha will be putting all its efforts into ensuring a successful and happy end to the partnership over the remaining races.
Lin Jarvis, Managing Director of Yamaha Motor Racing, said
"On behalf of the Yamaha Motor Group, I would like to express our sincere gratitude for the amazing seven years that we have spent together. Valentino joined Yamaha in 2004 at a moment when Yamaha was struggling in road racing after eleven seasons without a championship victory. Valentino's victory at his first GP race for Yamaha in South Africa in 2004 was an incredible moment and was just the first of many more race wins that have thrilled MotoGP fans and Yamaha fans around the world. His unsurpassed skills as a racer and a development rider enabled him to win four MotoGP world titles to date with us and helped Yamaha develop the YZR-M1 into the 'the bike of reference' for the MotoGP class.
"There have been so many wonderful experiences and victories and we are very proud to have been able to make history together. Whilst we regret Vale's decision to move on, at the same time we fully respect his decision to search for a new challenge and we wish him the very best for 2011 and beyond.
"For the remaining eight races of 2010 Valentino will remain a Yamaha Factory rider. As such he will continue to benefit from our full support and we hope and expect to see some more race wins with him 'in blue' before the season is over!"
———————————————
Valentino Rossi was far more emotional and expressive in his statement which reads like a love letter to his Yamaha M1. Read it below.
Valentino Rossi Official Statement:
"It is very difficult to explain in just a few words what my relationship with Yamaha has been in these past seven years.
"Many things have changed since that far-off time in 2004, but especially 'she', my M1, has changed. At that time she was a poor middle-grid position MotoGP bike, derided by most of the riders and the MotoGP workers. Now, after having helped her to grow and improve, you can see her smiling in her garage, courted and admired, treated as the 'top of the class'.
"The list of the people that made this transformation possible is very long, but I would like to thank anyway Masao Furusawa, Masahiko Nakajima and 'my' Hiroya Atsumi, as representatives of all the engineers that worked hard to change the face of our M1. Then Jeremy Burgess and all my guys in the garage, who took care of her with love on all the tracks of the world and also all the men and women that have worked in the Yamaha team during these years.
"Now the moment has come to look for new challenges; my work here at Yamaha is finished. Unfortunately even the most beautiful love stories finish, but they leave a lot of wonderful memories, like when my M1 and I kissed for the first time on the grass at Welkom, when she looked straight in my eyes and told me 'I love you!'"
———————————————
Ducati sporting boss Filippo Preziosi said:
"Firstly, Valentino is a great fan of motorcycles and so it has always been a pleasure for me to listen his opinions," said Preziosi.
"Until the Valencia GP he will remain a competitor, one so great that he has always given a special value to our victories, but as soon as he rides the Ducati for the first time, we will work together on every single detail that will develop a bike capable of showing his huge talent.
"Working with Valentino is one of the most exciting things for every engineer and it's good to know we will have this great opportunity next season."
Ducati president Gabriele Del Torchio said:
"We are delighted to announce that Valentino Rossi will be with us from 2011," he said. "He is a paragon of excellence in the world of motorcycling, coherent with our Italian company which is a standard-bearer for 'made in Italy' excellence. These are key values for success in technology, design and sportsmanship."
Popularity: 5% [?]