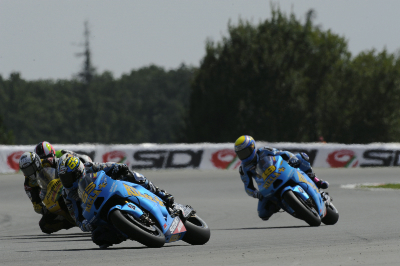 Another terrible day at the office for Rizla Suzuki – both Capirossi and Bautsita crashed out of the Czech MotoGP at Brno. Capirossi damaged his bike in a clash with Valentino Rossi and crashed out soon afterwards; and Alvaro Bautista, once again this season, crashed out on the final lap after a determined race where he fought against some of his old 250cc rivals, as well as his back injury.
Both riders reflect on their misfortune below:
Loris Capirossi:
"I am so upset by today's race because I know I could have had a good result here. I got hit on the first lap by another rider and that pushed my clutch lever right up, so I had to hit it to get it into place and by the time I had done that I was last. I easily passed four riders and I felt my pace was very fast, but then in turn 12 of the second lap I lost the front and crashed. I don't know what happened because I wasn't braking and I didn't turn in too quickly, I just lost grip and went into the gravel. I am sorry for the whole team because they are working so hard and getting nothing. This has not been the weekend we wanted or deserved, so we will need to start work again tomorrow in the test and see if we can start to turn things around – the potential was really good today."
Álvaro Bautista:
"The crash was a big disappointment for me as I went to overtake Simoncelli, because at the beginning of race I didn't know what my condition would be at the end and I was pleased that I felt strong enough to make the move. The first few laps were difficult because I'd only had about 40 minutes of dry practice all weekend and needed to get my reference points sorted out. The pain was horrible but I was able to start to push and in the middle of the race I was in the group challenging for eighth position, which was not too bad. After about half of the race my body started to tire and although I was pushing to the maximum, when I came up to other riders it was difficult to pass because I was at my physical limit. I would have liked to finish this race as this is now three consecutive races that I have failed to complete. The rest of the race was not too bad and compared to other riders my rhythm was good. I hope for the next race in America to make a complete weekend and continue with my progression in MotoGP."
Paul Denning – Team Manager:
"In sport you have to make your own luck, but it really feels like we need to go to a Church and have a word with someone who can maybe help us out a little bit! Absolutely nothing seemed to go right here at Brno and the most disappointing thing is that without question the bike and riders had the capability to challenge for a top-six position. Álvaro made a heroic effort, we have to remember that he was in great discomfort and had only spent about 45 minutes practice time in the dry compared to everyone else's three hours. Once he found his rhythm the bike was working well, his speed was good and he'd clawed his way into contention for an excellent finish. His commitment to catching and passing Simoncelli on the last lap was obvious and he nearly made it happen, but asked a bit too much of the front tyre in the final left. It was extremely disappointing, but we have to respect a superb effort.
"Loris's race should have been his best of the season, the bike felt right and after he was knocked back to last place he looked like he could pass other riders with ease. He said the bike and feedback from it was the best he'd felt all year.
"The result today doesn't reflect anywhere near our potential and we're going to work positively at the test tomorrow and set our sights on realising the true capability of the GSV-R, Loris and Álvaro for the rest of the season."
Popularity: 1% [?]