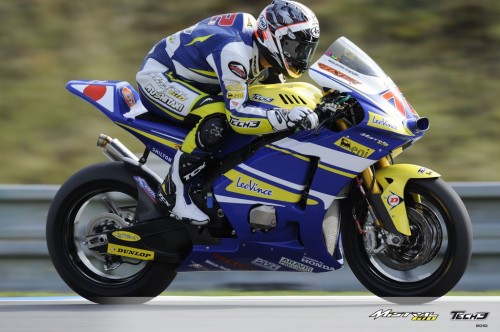 Yuki Takahashi had a fantastic Moto2 race and took advantage of Andrea Iannone's tyre troubles late in the race to put him under pressure and snatch 2nd position from him.
Yuki Takahashi 2nd 72-points
"This is a fantastic result for us and a great end to a weekend where we were really strong throughout. I didn't panic at the start when I dropped from fifth to 12th because all weekend we'd worked hard on the set-up of the bike when the tyres were a little bit worn. So I knew I would be very strong in the second half of the race. I was in a very fast rhythm and I was easily able to catch and pass people in front of me. When I took Cluzel I was confident I could catch Iannone and take second, even though he was nearly three seconds ahead and time was running out. This is our second podium in three races and now the bike is really competitive and this feels just as good as the win in Barcelona because I had to work so hard. The Tech 3 Racing Team has done a great job and now we are starting to get the rewards for our effort and I'm looking forward to a strong finish to the season."
Takahashi's team-mate, Raffaele de Rosa, had to find satisfaction with 15th place and a single championship point.
Raffaele de Rosa 15th – 1-point
"Finally I have scored some points and I'm really happy, but I still wanted more. I have to say a big thanks to my guys at Tech 3 Racing because it has been a difficult period, but they have stood by me and never given up and today the bike worked very well. I was riding a little bit cautiously today because I didn't want another crash and perhaps if I was more aggressive I could have been even higher up. Unfortunately I had a small technical problem on the last lap and I lost two places but this has given me a lot of confidence for the rest of the season."
Herve Poncharal – Team Manager
"What a ride by Yuki. He was phenomenal today because coming from so far back in such a competitive class is a great achievement. Once he was able to get into his pace it was obvious he was much faster than most guys in front of him. He made some fantastic overtakes and I think the fans really enjoyed watching him ride. I also want to congratulate Raffaele because he scored his first points and this is the first time both have been in the top 15. Hopefully this will give his confidence a big lift and we can see him consistently in the top 15 for the rest of the season. I want to thank his crew as well because they have worked unbelievably hard to help Raffaele score his first points and we can look forward to the second half of the season with great optimism."
P8P4H3RH6S6C
Popularity: 3% [?]