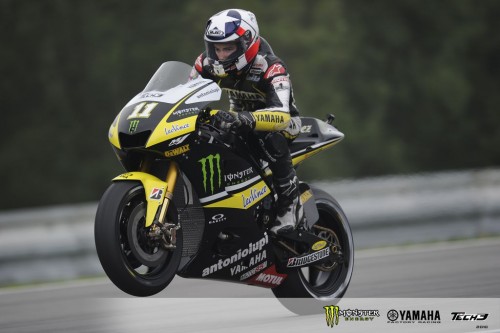 Starting from the front row of the grid for the first time in his MotoGP career, Spies made a solid start to the race, and for a (very) short time led off the line before being overtaken by Dani Pedrosa. Spies swept by the Spaniard later on the first lap to engage in an exciting early battle with Pedrosa and Jorge Lorenzo.
Despite launching a concerted effort to stay in contention at the front, Spies was unable to maintain his impressive early rhythm and had to settle for 4th position – still, excellent stuff from the satellite Yamaha rider who is favourite to replace Valentino Rossi in the factory Yamaha team in 2011.
Colin Edwards also showed signs of returning to form with a solid performance over the weekend, despite having to settle for 7th position in the race.
Both Tech 3 riders look back at the Czech MotoGP and give their thoughts below:
Ben Spies 4th – 90 points
"I got a good start and was staying right with Jorge and Dani for a few laps and had a comfortable pace. But after about lap seven I starting having problems with the front that I hadn't experienced all weekend. It's a shame because while I know I definitely didn't have anything to fight Jorge with because he is riding so well, maybe I could have stayed close to Dani. I'm not saying I'd have beaten him but I'd have been closer to put up a challenge. I had one second on Casey when I started having the problems but I had to slow my pace quite a bit and that was a bit frustrating because it meant he caught me quite quickly. I couldn't run his speed so when he passed me I didn't worry about trying to run with him. I'm not upset though because without that small problem I could have easily battled for the podium. I'd have loved the podium to give me a big lift before going home to Indianapolis, but I'm really happy with my recent performances and once again I was the top satellite team rider and I can't be unhappy with fourth place."
Colin Edwards 7th – 57 points
"I gave it everything I had and I can't be disappointed with the way I rode. I thought it was going to be a good race because I'd been strong all weekend and really happy with the new front-end geometry setting that had helped the bike turn much better. And when I got a good start I felt confident that I could challenge for my first top six of the season. But in the race I didn't have the same feeling with the front tyre and I don't think I was the only one that had a small issue. When I tried to push a bit harder I had a moment and I lost contact with Valentino and Nicky in front of me. I took some risks to keep close to them but there was nothing I could do. Seventh is not a great result but it's better than where I have been finishing and hopefully we can make some more progress in Indianapolis and be closer to the front."
Herve Poncharal – Team Manager
"I am a happy man tonight because Ben and Colin were really strong all weekend and today was no exception. We scored a good amount of points that really helps us in the Team Championship and once again thanks to Ben and Colin we are the leading non-factory squad. I think Ben gave everything he had and at one stage early on we were thinking that he might be able to challenge for another podium. But he had some small issues that prevented him from staying close to Jorge and Dani and then Casey. He kept the pace he was comfortable at and it was another very strong result from Ben who can be proud of another impressive weekend. I'm also happy with Colin because he has been riding very well at the last two races and he helped Yamaha occupy an incredible four places in the top seven. We are really confident for the rest of the season that Ben and Colin can be consistently together in the top six. Now we look forward to another trip to America where both will be determined to put on a good show for the fans."
Popularity: 3% [?]