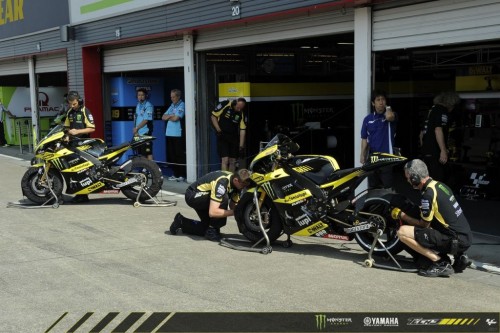 Colin Edwards and Cal Crutchlow declared themselves satisfied with progress made on the opening day of practice for the Japanese MotoGP at the Twin Ring Motegi circuit today.
Both were able to post competitive times in cloudy but hot conditions that bodes well for a strong weekend for the Monster Yamaha Tech 3 Team in Yamaha's all-important home Grand Prix, which is round 15 of the 2011 World Championship campaign.
Edwards ended 10th quickest on the combined timesheets after he'd been an impressive seventh fastest in this morning's opening 45-minute session with a lap of 1.48.169. Working hard to gain more confidence and feeling on the hard compound rear Bridgestone tyre option, Edwards was only able to marginally improve his pace to a 1.48.076 this afternoon.
He finished less than 0.3s away from Twin Ring Motegi specialist Hiroshi Aoyama in seventh, giving Yamaha's most experienced rider huge encouragement that he can fight for a place on the second row in tomorrow's qualifying session.
Crutchlow threw himself into the challenge of learning another new track with typical gusto, the British rider finishing 14th fastest on the leaderboard.
He needed just five laps of this afternoon's session to better his time of 1.49.385 from the opening practice. He continued to make big improvements as his experience of the track increased and at the second session's conclusion he had managed to shave off over a second to finish with a best time of 1.48.379.
Quickly adapting to the severe braking points on the 2.983 miles circuit, Crutchlow finished just over 0.3s away from ninth place and he is optimistic he can compete for his first top 10 qualifying position since the Laguna Seca round in late July tomorrow.
Colin Edwards 10th 1.48.076 – 35 laps:
"It was a decent start to the weekend without being anything too special. I was reasonably happy this morning to be seventh fastest and really close to the top six. But this afternoon we ran the hard tyre for the whole session and I didn't really feel that good. I just can't get the lap time out of it even though I can't really pinpoint any specific issues with it. I can't sit down with my crew and tell them where we've got problems, but it made the bike a little bit more nervous. I expected to be higher than 10th after this morning but this is a point and shoot track and there is no getting away from the fact that we are struggling on acceleration. At a track like this where there is a lot of low gear acceleration points it shows up more. Tomorrow we need to test the softer tyre for a little bit longer to make sure we can do race distance on it, but we'll also be working harder to improve the set-up of the bike on the hard tyre to give us the best chance possible of a strong result for Yamaha on Sunday."
Cal Crutchlow 14th 1.48.379 – 38 laps:
"I'm happy enough with my pace today because this is a really weird and difficult track with a lot of really hard braking points that makes it very physical. I've had a few arm pump issues this year but thankfully the surgery I had a few weeks ago has done the trick because today I had no problems at all. And if there was going to be an issue with my arms it was going to be at this track because of all the hard braking. Unfortunately we're lacking a bit of engine performance but there is nothing I can do about that. It is a bit of a disadvantage but I managed to find a second this afternoon, so that shows with more experience of the track I am able to make big progress. Track experience is vital because I beat Aoyama in Aragon a couple of weeks ago but today he is seventh fastest. I'm only three tenths from being inside the top 10, so if I can find that time tomorrow and get on the third row of the grid, I'll be well happy with that."
Popularity: 1% [?]