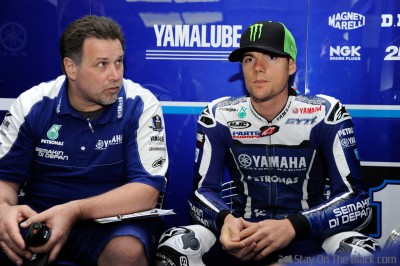 Ben Spies had a frustrating start to the MotoGP weekend at Motegi after suffering from food poisioning on the way over.
Spies had to all but abandon the second free practice session and will be seeking treatment from the Clinica in order to improve things for tomorrow's qualifying session.
Jorge Lorenzo is not without issues of his own, despite a solid start it seems that it will take a lot of work in order to beat the 3 Repsol Honda's that dominated both Free Practice sessions.
Jorge Lorenzo:
"We improved the lap time quite a lot from the morning to the afternoon session but it's still not enough, the competition is very strong here. It is going to be a very difficult weekend to fight for the podium and the victory. We are trying some things on the bike to improve the stability on braking and into corners. We found a little but still need to find some more! We are fifth which could be worse today."
Ben Spies:
"What a shocking start to the weekend, I don't think I've ever been as sick as I was on the journey over here, I was nearly not allowed on the plane. I'm slowly getting my strength back thanks to the great guys at Clinica but didn't have enough to ride properly in the second session. I started to get tunnel vision on the straight and just felt it was too dangerous to be out there. I'm working with Clinica today and tomorrow and am sure things will be a bit better for qualifying and the race. I'm really sorry for my team and all the Japanese fans who came to watch today."
Popularity: 1% [?]