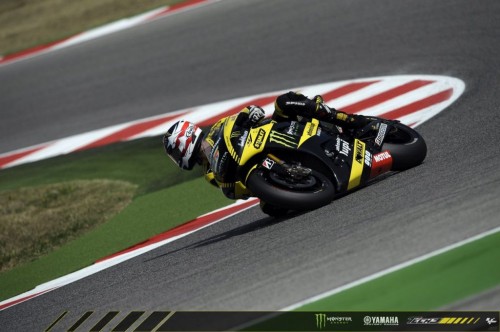 Colin Edwards announced this weekend that he would be leaving the Tech 3 Yamaha team at the end of the season, but he will remain in MotoGP next year with the NGM Forward Racing squad as it makes its debut in MotoGP as a Claiming Rules Team for 2012.
Despite this news, Edwards managed to pull out some qualifying glory for the Tech 3 team by getting himself comfortably in the top 5 with some consistent laps, before finally getting beaten at the end of the session to take 7th position for tomorrow's race.
Cal Crutchlow showed signs of improvement throughout the qualifying session and managed to get himself insiide the top 10 for a while, before he crashed out towards the end and was unable to rejoin the session. Crutchlow will start in 13th position for tomorrow's race.
Here is what Colin Edwards and Cal Crutchlow had to say about the Misano qualifying session:
Colin Edwards 7th 1.34.054 – 29 laps:
"I'm really happy with today and it was a shame all our hard work didn't quite get us on the second row. We knew what the problems were yesterday and we changed the geometry on the front-end to create some stability through the high-speed sections. Once again I got to say a big thanks to my Monster Yamaha Tech 3 crew because they rolled out an awesome bike for me. They did their job and I had to do mine and thankfully I did. There's not much between fourth and seventh and to be just over a tenth behind Ben (Spies) on the factory Yamaha proves what a good job we've done. I'm now looking forward to the race tomorrow. I'm going to run the soft rear tyre and I'm pretty sure it will be perfect, but I just can't make the hard rear option work. It feels pretty rigid and I just tense up when I'm on it. I've got to be looking at the top six though it is not going to be easy at all when you look at the calibre of those guys in front of me and the bikes they are riding. I just need to make sure I get a good start and try and stay out of trouble in the first couple of corners because there's been a few incidents there."
Cal Crutchlow 13th 1.34.791 – 23 laps:
"The position on the timesheets looks like it was a bad session and it could definitely have ended a lot better without the two crashes. But this morning I was a second faster than yesterday and felt really comfortable on the bike after we made some overnight changes that improved the front. I think I was eighth on the timesheets when I had the first crash, so I know I could have been in the top 10 on the grid. The first crash was at Turn 3. I'd just gone out on my first soft rear and there wasn't enough heat in it, so it high-sided me and then turned into a low-side. It wasn't a big problem and we put a new soft rear tyre in the spare bike. But the only front I had left was 25-laps old. I was on for a really good lap and the front pushed because it had close to race distance on it and I crashed again. That's pretty annoying but they were both my mistakes and I hold my hands up for that. I'm still positive that I could have been much higher up on the grid and I am confident I can be inside the top 10 tomorrow. I need to apologise to my Monster Yamaha Tech 3 crew for giving them a bit of work, but it makes me more determined to give them a decent result tomorrow."
Popularity: 1% [?]