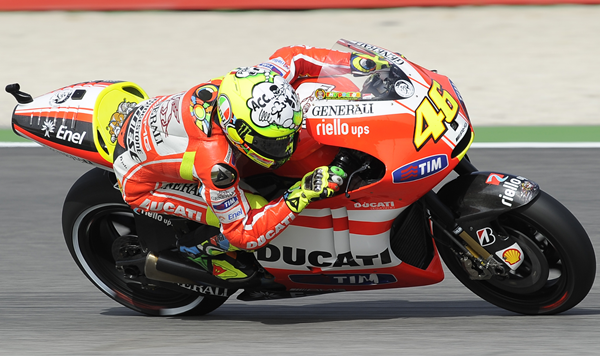 Valentino Rossi wore a custom helmet design at Misano that reflected his current mood on how his season has been going. The helmet featured a speech bubble full of swear words and curses coming from under his visor.
However, by the end of a tough qualifying session at Misano, Rossi sounded more positive about the progress that he made throughtout the day, even considering his 11th place qualifying position. Rossi and the team stated that they are comfortable that they have a setting that will give them a more consistent race pace, and coupled with Rossi's home fans urging him on, tomorrow should be interesting.
Nicky Hayden had a poor session and qualified in 15th place, but Hayden also feels that his final position does not reflect his potential race pace.
Both Ducati riders give their thoughts on Misano qualifying below:
Valentino Rossi (Ducati Team) 11th (1:34.676)
"Today went a bit better. We changed the setup a little compared to yesterday, and then we stuck with that, making small steps. There were no longer parts of the track where I lost a lot of time compared to the others, as we reached a steady level around the entire lap, although of course we're still not as fast as we'd like to be. I was a little unfortunate on what would have been my fast lap, because after three good sectors, I came upon De Puniet going slow in the final hairpin before the last two left-handers, and there alone I lost half a second. Otherwise I could have done a 1:34.0 and started from the third row, which is what we had set out to do. Anyway, I'm not too bad in terms of pace, so we'll see what we can do in the race tomorrow."
Nicky Hayden (Ducati Team) 15th (1:34.955)
"This morning wasn't bad to start with. I had used tyres from yesterday and was able to find a rhythm and do some decent laps. As has been the case lately though, things got worse in the afternoon. I was pushing the front, and I had a lot of front chatter, even with the soft tyres. It's tough for Ducati here at their home, with the team trying hard and all the fans wanting to see us do something. I've got to believe the bike is better than fifteenth, so I've got to do a better job myself. It's not the day we hoped for, and we'll try to do better in the race tomorrow."
Popularity: 3% [?]