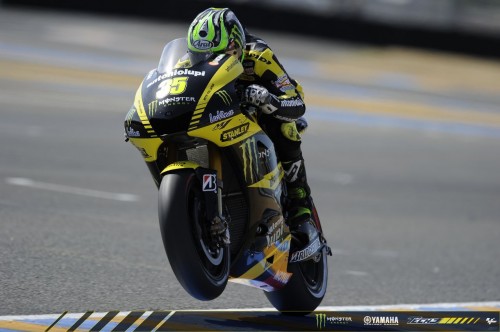 Casey Stoner and Marco Simoncelli may take all the headlines after the Qualifying session at Le Mans, but it was Cal Crutchlow who arguably produced one of the rides of the day by securing 6th position for Sunday's French GP.
Le Mans is not a track that Crutchlow has ever raced at before, and he admitted himself that his only past experience of the track was as a spectator watching the 24 hours races here.
Cal Crutchlow 6th 1.33.804 – 28 laps
"I knew I had the raw speed to come into MotoGP and be fast, but to get a top six on the grid in just my fourth race is a brilliant achievement. Thanks again to my guys in the Monster Yamaha Tech 3 Team because we've worked really well again and I wanted to do well with this being the Team's home race in France. At one point in the session I was only 15th and I was starting to get a bit worried because we spent a lot of time on the hard tyre. I couldn't get it to work and I did a faster lap on a softer tyre that had done 30-laps. To be honest, the bike has been quite difficult to ride this weekend. We've had to change the wheelbase setting from the Estoril test but it still feels a little bit unstable. To qualify sixth on a circuit I've never seen before though is great, but my expectation will still be to finish in the top ten. And that's going to be difficult when you look at how close the times are. As always I'll be going all out tomorrow to get a good result."
Crutchlow's team-mate Colin Edwards managed to finish right behind Cal on the grid taking 7th poistion.
Colin Edwards 7th 1.34.063 – 30 laps
"I liked looking at the timesheets in Le Mans a lot better when the Yamaha used to be on the top. I honestly can't do anything on else with the package I've got. I know I'm riding really good and the set-up we found in Estoril that improved rear grip has been working fantastic here too. I could probably find a tenth or two but I definitely don't have another second hidden away. I know where I'm losing the time but there is nothing I can do about it. I can't change the bike to make it accelerate it any harder but that other bike is a really good package. The goal tomorrow will just to be aggressive in the first few laps and ride the wheels off it until I see the flag. That's really all I can do but this is the Team's home race and a huge event for Monster, so I'll be pushing my hardest for another top six."
Popularity: 1% [?]