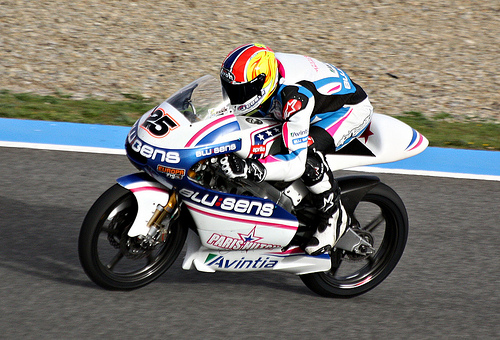 Maverick Vinales has produced the first shock of the weekend by beating Nico Terol to victory in the 125cc race.
Maverick (his father was a huge Top Gun fan – true!) Vinales got off to a good start and managed to shadow Terol and both riders edged out a lead.
Terol was leading into the final lap (after a short period that saw Vinales lead the race), when he ran a little wide and Vinales exploited the gap on the final turn and pushed through to win by a fraction of a second.
Terol is unlikely to be too concerned as a second place finish sees him extend his points lead in the 125cc Championship even further.
125cc Race Results
1Maverick VIÑALESBlusens by Paris Hilton Racing42'00.505
2Nicolas TEROLBankia Aspar Team 125cc0.048
3Efren VAZQUEZAvant-AirAsia-Ajo6.836
4Hector FAUBELBankia Aspar Team 125cc8.298
5Johann ZARCOAvant-AirAsia-Ajo8.59
6Jonas FOLGERRed Bull Ajo MotorSport10.236
7Sandro CORTESEIntact-Racing Team Germany10.667
8Sergio GADEABlusens by Paris Hilton Racing15.642
9Miguel OLIVEIRAAndalucia Banca Civica22.838
10Luis SALOMRW Racing GP30.901
11Alberto MONCAYOAndalucia Banca Civica33.796
12Simone GROTZKYJPhonica Racing34.413
13Louis ROSSIMatteoni Racing34.696
14Adrian MARTINBankia Aspar Team 125cc41.236
15Alexis MASBOUWTR-Ten10 Racing56.943
16Hiroki ONOCaretta Technology57.409
17Danny KENTRed Bull Ajo MotorSport57.763
18Jasper IWEMAOngetta-Abbink Metaal57.823
19Zulfahmi KHAIRUDDINAirasia-Sic-Ajo57.884
20Luigi MORCIANOTeam Italia FMI+1'02.089
21Jakub KORNFEILOngetta-Centro Seta+1'02.713
22Taylor MACKENZIEPhonica Racing+1'25.418
23Giulian PEDONEPhonica Racing+1'42.498
24Francesco MAURIELLOWTR-Ten10 Racing+1'43.885
25Peter SEBESTYENCaretta Technology+1'44.903
26Alessandro TONUCCITeam Italia FMI+1'45.356
27Kevin SZALAIMaxiscoot MVT Racing1 Lap
28Kevin THOBOISTeam RMS1 Lap
Not Classified
Joan PERELLOMatteoni Racing4 Laps
Danny WEBBMahindra Racing7 Laps
Marcel SCHROTTERMahindra Racing7 Laps
Harry STAFFORDOngetta-Centro Seta11 Laps
Niklas AJOTT Motion Events Racing21 Laps
Popularity: 1% [?]