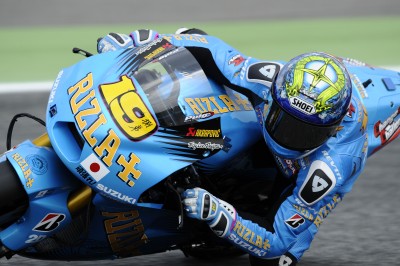 Alvaro Bautista found himself in the thick of a physical race at Le Mans, as he made contact with riders on more than one occassion.
Bautista got off the line well at the start of the race, but was boxed in on the first couple of corners and found himself relegated to last place by the end of the first lap. Eventually he regained his rhythm and managed to battle his way up to 9th position, before bouncing back down to 11th after a mistake.
The Spaniard was then hit from behind by Loris Capirossi, as Bautista also came together with Hector Barbera – an incident that saw Capirossi crash out.
Bautista had to make do with 12th position at the end of the race
Álvaro Bautista:
"This is my first race this year because in Estoril I raced alone, but today I was able to fight with other riders! We managed to finish the race and get more kilometres under our belts, but I did not have the same feeling today as we had yesterday. I felt like I had no good rear grip in the exit of the corner and the bike was spinning a lot and I struggled to stay with the group going for places in the top-10. I made a mistake when I tried to pass Abraham later on as I touched the gear lever and went into neutral and lost some time, and I also had a bit of an incident with Loris and Hector. I tried to catch the group at the end, but it was very difficult to get past them. This is another race completed and I felt more competitive than in Estoril. This race was good for getting the racing feeling back and being able to overtake other riders and fight with them. I did many overtakes under braking and enjoyed the race very much – but not the result! I think if my rhythm had been better I could have finished in the top-10.
"I want to thank all my team, because it has been a difficult weekend with some strange weather conditions, we tried to do the best we could and make a good bike for these conditions."
Paul Denning – Team Manager:
"This weekend has been a successful second step for Álvaro's recovery, and the fact that he's ridden the bike in Estoril and here in Le Mans is a great result in itself – compared to what most people involved in MotoGP thought would happen. The general consensus was to come back at Catalunya, and that was as good as we could expect. Now we have two race-weekends under our belt, his first battle with other riders since Valencia last year and a good platform to really start our season. In Barcelona – the Rizla Suzuki goes well there, the rider will be back to full strength and we're all looking forward to it!"
Popularity: 1% [?]