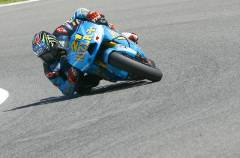 John Hopkins made his competitive return to MotoGP at Jerez today – Hopper is replacing the injured Alvaro Bautista, who is recovering from a broken leg.
Hopkins ended the first practice session in last place, which was to be expected given the lack of time he has spent on MotoGP machinery since the left the paddock in 2007.
In the second Free Practice session Hopkins managed to shave a bit extra off his time to clock a 1'42.305, and finishing ahead of Toni Elias in the process to take 16th position.
Here is what Hopper had to say about his 'first day back at school'.
John Hopkins:
"Today was basically just about getting a feel for the bike and getting used to being back in the team. I wanted to get comfortable today and I didn't want to go out and do anything stupid – that's for sure! Since I was last in MotoGP they've changed to 45-minute sessions so that was a bit different, I would have liked a lot longer on the bike to get a better feeling, but that was not possible. In the two sessions we altered some of the electronics, but we haven't changed anything on the chassis because it felt great, there was no need to change the geometry because the base setting was so good. Obviously it's where I expected to be position wise, it's a tall order from not riding a MotoGP bike for so long and only having ridden about 150 to 200 laps on a superbike in the last seven months, there was certainly a lot to learn on the first day. I am actually quite confident that we can improve a lot tomorrow after I've had the chance to sit back, relax and think about things. I followed some people at the end of the day and I realised there are a lot of places where I need to change my lines, but that's normal really.
"I am just extremely pleased to be in the MotoGP paddock again and out there with the best riders in the world. There is a huge sense of gratitude from me because I never thought I'd be in this position so soon again in my career, so I want to say a big thanks to everyone at Rizla Suzuki for giving me this opportunity. I just want to be able to improve my position a bit more over the weekend and pay everyone back for giving me this chance."
Tom O'Kane – Crew Chief:
"Everybody in the team is really happy with the way John has ridden today. Our target was for him to come here, learn about the tyres, learn about the bike again and have fun. In the afternoon session he closed the gap on the leaders – compared to this morning – and although the wind affected everyone this afternoon and John wasn't 100% comfortable in the conditions, he still did a very good job. I think that once John has had a chance to sleep on things tonight, the corners won't come up on him so quickly and he'll be able to react better and find the lines to improve on his times."
Popularity: 1% [?]