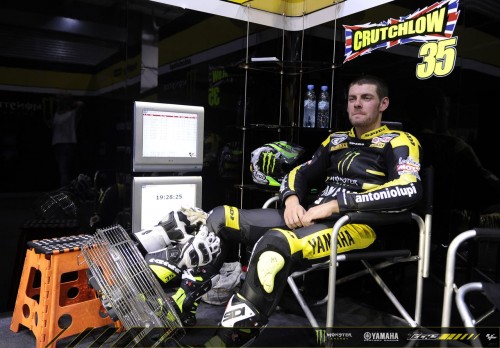 The first European MotoGP of the season kicked off in Jerez today and gave Cal Crutchlow one of many new tracks to learn.
The British rider seemed unfazed, stating, "I felt like I learned the circuit pretty quickly and I was happy with my performance this morning". Crutchlow ended the morning session in 14th, and dropped to 15th in the hotter afternoon session (20 degrees hotter than the morning session).
Colin Edwards continued his solid start to the season and finished as the top non-factory rider in the morning session by taking 8th position. He finished the afternoon session in 11th position.
Both Tech 3 Yamaha riders give their thoughts below:
Colin Edwards 10th 1.41.063 – 39 laps:
"We tried a bit of an experimental set-up with one bike we thought would work to help with the turning performance but it didn't quite give us the result we were anticipating. It worked in some areas but it created some other issues, so we'll go back to more of a similar set-up to what we ran in Qatar for tomorrow and we know that works. I was actually faster using the different setting but I just don't feel I can run that pace consistently over a race distance. What made it really difficult today was the wind. It was really gusting hard in some places, so you just had to be pretty careful because it was easy to get caught out. You just had to pay attention and get a feel for which way the wind was blowing because at least it was consistent in one direction."
Cal Crutchlow 15th 1.41.854 – 36 laps:
"I felt like I learned the circuit pretty quickly and I was happy with my performance this morning. But this afternoon I didn't really make the improvement I was looking for and that was a lot to do with the track temperature being much higher. You only have to look at the times of the fast guys to see the hotter conditions made it hard because nobody in the top seven was faster this afternoon. I was a little bit quicker, so I've improved and gained some time, but I needed to make a bigger jump than I did. With the track temperature a lot higher it made the bike feel quite a bit different compared to this morning. I'm sure I can improve the front-end feel because the wind was so strong it was blowing me off line. The front needs to be more planted so we've got some ideas to improve tomorrow. Considering my lack of experience at this track, I'm satisfied because the times are pretty close and I know we can improve."
Popularity: 1% [?]