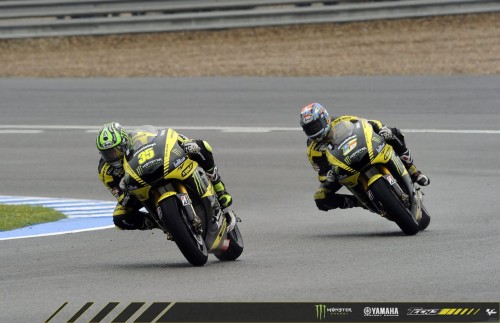 Always one for a good quote, Colin Edwards surprised the BBC when they interviewed him after the race and asked about his reaction to the engine failure that caused his retirement from the Spanish MotoGP – his response: "Well that sucked dog testicles".
Edwards was in third position and looked certain for a podium finish when his engine seized on the final lap and he was forced into the gravel. So, thats 5 engines left for Colin Edwards after only the second race – not good news.
Crutchlow also had an eventful race – by lap 12 he was in 5th position and began hunting down Nicky Hayden. Crutchlow was less than two seconds behind Hayden when he crashed at Turn 9 on lap 20. In line with the overall strangeness of the day Crutchlow was able to rejoin the race and still finish ahead of Toni Elias, John Hopkins, and others to claim 8th position.
Here is what Edwards and Crutchlow has to say about the Spanish MotoGP:
Cal Crutchlow 8th – 13 points
"I never thought I'd crash in MotoGP and still get a top ten 10! That was an unbelievable race and not one of the easiest I've had in my career. The conditions were so unpredictable that it was hard to get any grip and I was having lots of moments with the front and rear tyre, but so was everybody else. I could see people were making mistakes but I just tried to keep my head. When I got into fifth I felt pretty comfortable though I wanted it to rain again because the tyres were wearing pretty fast. I was gaining on Nicky really quick and he was in fourth, so there's no doubt the way I was catching him that I was thinking about a podium. I've nothing to lose so I was pushing and I went down at Turn 9. I actually lost the rear but then pushed the front and I was down. I'm not going to be too hard on myself crashing when I was battling for a podium in MotoGP. I'm happy because before this morning I'd never tried the bike in the rain, so to be where I was is a good sign. I was in the top ten in the wet and dry on a track I'd never seen before Thursday, so I'm making good progress."
Colin Edwards DNF
"That's pretty tough to take because getting a podium in MotoGP is not something you get chance to get every week. The race was unbelievable because it was all about who could keep it on two wheels the longest. I was quite a way back at one stage but just didn't want to do anything stupid and crash and I just felt more and more confident to push. Nicky came back to me really quickly and I knew I'd have no problem passing him because he was in trouble with his tyres. I didn't have a lot more grip but I pulled away from him and the podium was right in front of me. The bike didn't feel great coming out of the last corner to start the last lap and by the time I got to the first corner it just stopped. Obviously I'm disappointed but I can't change what happened. I wanted that podium for my guys at Monster Yamaha Tech 3 because they are awesome. But we move on and try to bounce back at Estoril."
Herve Poncharal – Team Manager
"That was an incredible race today. We knew in those conditions it would be very hectic, but I never thought so much would go on during the race. Cal and Colin started well and pushed hard and halfway through they were both inside the top six. With more crashes we were getting nearer and nearer to the front and we started to dream of a podium but then Cal unfortunately crashed. It was a mistake and it was a pity as he could have had a really strong result in just his second race as a rookie in the World Championship. But the good point was that he picked up the bike and continued to push hard to finish eighth. I am really upset and sorry for what happened to Colin. He was one of the fastest guys out there and once Ben crashed he got third and he was easily quicker than Nicky. Unfortunately a technical problem didn't allow him to finish the race. This is really a pity as I think it would have been a very strong result for the team. Colin did not deserve that as he rode a really strong race, but that's racing. But I feel a bit bitter about how he was denied through no fault of his own."
Popularity: 1% [?]