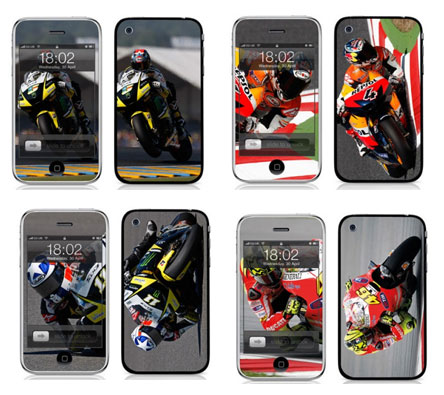 For those wanting to pimp out their phones – OnPole.com are carrying a range of MotoGP phone skins all for about £8.95 (with worldwide pricing options and delivery).
Basically each skin is made to order and can be purchased for the iPhone 3, iPhone 4, HTC Wildfire, HTC Desire, or the Blackberry. You just need to select which phone you have when ordering.
Phone skins are available for Ben Spies, Casey Stoner, Nicky Hayden, Valentino Rossi (Ducati and Yamaha ones), Jorge Lorenzo, Colin Edwards, and more…..
See the FULL RANGE
Product Description:
Mobile Phone Skins showing your favourite MotoGP riders, available for 5 different phones, with matching wallpaper to download with a special code delivered with your skin. Each design is digitally printed in colorful, bright, high-quality resolutions onto 3M vinyl. Each skin is covered with a high-quality 3M laminate layer to protect the design and the device from minor scratches and abuse. The unique, removable, skin adhesive means that you get no air bubbles when installed and no mess when they are removed. Each skin is made to order, in the UK, so please allow a couple of extra days for delivery.
See the FULL RANGE
Popularity: 3% [?]