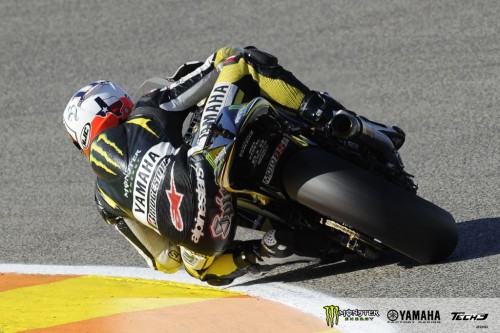 Ben Spies rounded off a memorable rookie MotoGP season in superb style in Valencia today, the Monster Yamaha Tech3 Team rider fighting his way to a fantastic fourth position.
As well as claiming the coveted Rookie of the Year title and finishing leading non-factory rider in 2010, Spies set another personal milestone this afternoon when he secured a top six place in the overall rankings. Locked on 163-points with Nicky Hayden going into the 30-lap race, Spies' latest outstanding result earned him the distinction of finishing top American after Hayden's early mistake ruled him out of contention.
On his final appearance for the Monster Yamaha Tech3 Team, Spies produced a fantastic farewell performance, overhauling Dani Pedrosa, Marco Simoncelli and Andrea Dovizioso with an inspired display of aggressive riding in the final ten laps.
Seventh until lap 20, Spies closed down what was close to a three-second deficit to the Honda trio before he move by Pedrosa on the 21st lap. Showing the overtaking prowess that has been a feature of the 26-year-old's outstanding season, he then swept by Simoncelli and Dovizioso on lap 27 before reeling off a blistering series of laps to leave the Italian duo trailing in his wake on his way to a 13th top six finish of the year.
It was a frustrating finale for Colin Edwards as he was unable to capitalise on an excellent practice and qualifying performance. Cooler and cloudier conditions this afternoon saw Edwards opt to race with the softer Bridgestone rear tyre. But the 36-year-old was hindered by a lack of acceleration grip and he slipped down to 12th.
Ben Spies 4th – 176 points
"I'm patting myself and my Monster Yamaha Tech3 crew on the back because to get sixth overall in the points is a great achievement for all of us. It was a good race and once I settled I could see the three Hondas coming back to me quite quickly. I kept them about a second in front of me and pounced when I felt confident I could pass them and pull away. They had some acceleration on me off the turns, so I knew when I made the pass it needed to be into a string of corners and not onto a straight. Once I passed Andrea and Marco I put my head down for a couple of laps and got rid of them. To finish fourth after last week's crash in Estoril is the perfect finish to what has been a great season. I said at the beginning of the season that a top five feels like a win and now this feels more like a normal result. I've had a better year than I thought I would have, so thanks to my team and all the people around me who have given me unbelievable support. I've learned a lot this season and I'm confident I will be even stronger in 2011."
Colin Edwards 12th – 103 points
"I wanted to finish the season on a high to reward my crew for all their hard work, but that was way below what I was expecting and to say I'm disappointed and frustrated is an understatement. Right from the start it just didn't feel like I had any grip when I accelerated. We'd set the bike up on the hard tyre for most of the weekend but we went for the soft option because the temperature was a little bit lower. But coming out of the corner I didn't have the grip to stay with anybody and it is a big pity because the changes we'd made to the bike for the hard tyre this weekend had helped me feel much more confident and comfortable. Congratulations to Ben though on getting sixth overall. He's been awesome and he's only going to get stronger."
Herve Poncharal – Team Manager
"There is not much else I can say about Ben because once again today he showed what an incredible talent he is. It is not easy to recover the gap like he did today, especially when you're competing in such a high calibre field. But he was patient and once he caught that group it was a pleasure to watch him in full attack mode and he deserved to be sixth in the Championship. That is an amazing achievement for a rookie and I take great pride in knowing the Monster Yamaha Tech 3 Team played a big part in his success. I'd like to thank Ben for everything he has done for Tech3, Yamaha and Monster in 2010. I have no doubt he has a very bright future ahead of him and it is a shame our experience together was so short. It was a privilege to have Ben in our team and we will never forget his achievements. I wish him all the best for the future. Today was not what Colin expected and I know he is very disappointed. He had looked very strong all weekend and it was a shame he could not be in the fight for the top six. Finally I'd like to congratulate Yamaha and Jorge Lorenzo because in 2010 they have been an unbeatable combination and they proved that again today."
Popularity: 1% [?]