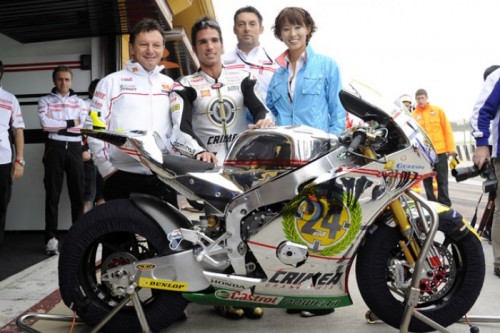 Gotta say, one of the most beautiful things about this weekend's racing action was Toni Elias's silver livery on his bike. Stunning.
The Gresini team prepared the special livery as a tribute to the World title that Elais took in Moto2, and as a gesture of thanks to Elias on behalf of Fausto Gresini and Midori Moriwaki.
Fausto Gresini
"It is a special tribute that we had to pay to Toni, who has given us so many emotions this year with an extraordinary title. The livery is a marvellous idea, which was overseen by Fabrizio Cecchini ahead of one last fantastic day with Toni. "
Midori Moriwaki
" I am so excited about the first title that for my family and everybody that works for Moriwaki that I I am almost in tears, it is the realisation of a dream. To celebrate it with such a wonderful livery is really fantastic. I want to thank Toni, Fausto, Fabrizio and everybody who has put so much enthusiasm into this project."
Shame that the bike ended up in the dirt on the final lap when Elias crashed out…….
Popularity: 4% [?]