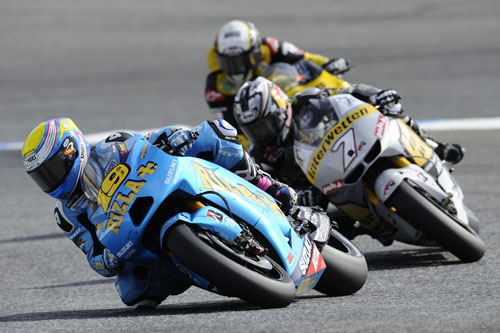 Álvaro Bautista just missed out on 10th place at the Portuguese Grand Prix today as the rain that had plagued the race weekend finally relented to allow a dry race.
Starting from 14th on the grid, Bautista got a good start and by lap five he had moved up in 10th position. As the race progressed Bautista got involved in a battle with his old foes from the 250cc series, Hector Barbera and Hiroshi Aoyama, which saw the three swap places regularly. Bautista fought to the line, but was beaten by Barbera in the closing metres and finished 0.187 seconds behind his old 250cc rival to claim 11th position.
Loris Capirossi had a weekend to forget as he struggled with his injuries, but at least managed to finish in 13th position and completed a race for the first time in sex races.
Álvaro Bautista:
"I feel very disappointed because I just didn't expect this result here. I know the weekend has been very strange, because we only rode in dry conditions in the race, but before I came here I thought we would have a good performance. When I started the race I quickly realised I couldn't get a good rhythm because I didn't seem to have much grip in the front or rear tyres and on the straights I also had a problem with the bike being very unstable – I even had to close the throttle sometimes because I couldn't control the bike properly. I fought for a position in the top-10, but I also had a bit of a problem with braking hard and that made it very difficult to overtake other riders. I hope that next week we can finish the season with a good result to make up for today's disappointment."
Loris Capirossi:
"The race was not so good, nor was the position, but I am still happy because it has been a long time since I have finished a race. I don't remember when the last one was – I think it was Indianapolis – so to finish was my first target today. We never rode in dry conditions here all weekend so we did not know what setting to go for in the race and the bike was really unstable today, so I had to fight with that as well. I was able to overtake Carlos early on and from then I just wanted to finish the race. It has been really hard for me today, but as I said I am happy just to finish.
Paul Denning – Team Manager:
"Going straight into the race with no dry practice at all was always going to throw up some interesting results, but unfortunately we definitely needed some dry running to get the bike working properly. The biggest problem for both riders today was stability, which was not helped by the strong cross winds down the main straight, but our competitors didn't seem to have the same trouble at all. Álvaro fought hard – as always – but we couldn't give him a good enough tool for the job today and we'll be hoping that we can improve things in Valencia and he can finish his season as strongly as his potential has shown in the last few races.
"For Loris it was a bonus for him just to see the chequered flag, his physical condition is far from good and he did well to tough it out and bring the bike home."
Popularity: 1% [?]