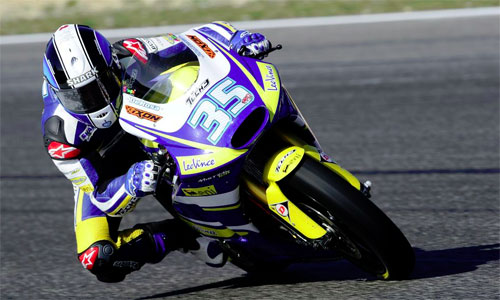 Raffaele de Rosa produced his best performance of the 2010 Moto2 world championship in Portugal this afternoon, the Tech 3 Racing rider putting up a heroic fight to finish sixth in a classic 26-lap race.
After a weekend dominated by atrocious weather conditions, today's race was run in bright and sunny conditions that provided a welcome respite from the heavy rain that caused severe disruption to practice and qualifying. The race started on a track littered with damp patches after heavy early morning rain, but conditions improved significantly as the pulsating action unfolded with a fierce wind rapidly drying the surface.
Italian de Rosa briefly slipped out of the top ten in the early stages before he quickly found a fast and consistent pace in tricky conditions to play a starring role in one of the most exciting battles witnessed in the inaugural Moto2 world championship. As the race reached a nail-biting climax, de Rosa had superbly kept himself in contention for the podium with eight riders embroiled in a tense tussle for third place. The final stages provided non-stop action with the crowd entertained by some brilliant overtaking moves.
Just five laps remained when de Rosa superbly guided his Tech 3 Racing machine into fourth position. But as the action intensified he dropped down to sixth despite an outstanding effort to clinch his first rostrum of the season. Sixth though was easily his best result of the season and reward for the tireless efforts of his Tech 3 Racing crew during the year.
Yuki Takahashi's hopes of putting himself in contention for a third podium finish of 2010 were ended by a small mistake on lap five. The Japanese rider was locked in a close battle for the top six after he'd made a fast start. But trying to defend his position at the first corner, he drifted slightly off line and hit a wet patch. He lost the front but remounted to finish 26th.
Raffaele de Rosa 6th 15-points
"That was an unbelievable race and it has been a long time since I had so much fun. You couldn't pause for a moment and I'm really happy with my performance. I knew all season I was capable of producing a race like that and today I was able to show my true potential. I was in the battle for the whole race and it was really exciting. To be so close to the podium is fantastic for my Tech 3 Racing crew who did an amazing job. It was a bit of a gamble on the set-up for the race because we'd never tested in the dry but the team gave me a really good bike and I had the confidence to push, even though the conditions weren't perfect. Sixth is easily my best result and it might have been a podium but everybody was changing places on the last lap. I'm really happy though and now I hope to finish the season with a positive result in Valencia next weekend."
Yuki Takahashi 26th 86-points
"It's a pity about the crash because I made a good start and I was fighting with the guys that finished on the podium. I was trying to defend my position at the first corner but I just had to go a little bit off line and I hit a wet patch. I lost the front very quickly and I had no chance to save it. I might have been able to recover some more places but the brake lever had suffered a little bit of damage."
Herve Poncharal – Team Manager
"That was a fantastic race and we expected some big surprises because of the way the weather had played such a big role in the whole weekend and I don't think anybody was disappointed. I have to say big congratulations to Raffaele because he rode easily his best race of the season and he was fantastic. He was always able to keep himself in the fight for third place and we were dreaming that he might get a podium. He did a great job with his Tech 3 Racing crew and it was good to see them get some reward for all their hard work. It was a pity for Yuki because he was also looking very strong and he was confident that he could have been fighting for the podium. Raffaele's result and Yuki's pace though mean we go to the final race in Valencia confident of a double top ten finish to end the year."
Popularity: 1% [?]