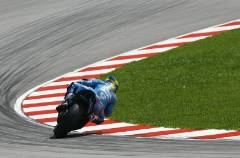 The Rizla Suzuki MotoGP team heads over the equator to the single Grand Prix held in the southern hemisphere, as the team travels to Phillip Island in Australia this weekend.
This is the third of three back-to-back races and Alvaro Bautista is brimming with confidence after a 7th place and a 5th place finish in the last two races.
Despite being battered and bruised from a crash in the practice session at Malaysia, Loris Capirossi will race at Phillip Island and will be looking for a strong result after failing to finish in the last two rounds (Motegi and Malaysia).
Álvaro Bautista:
"I'm looking forward to going to Australia, it is a track I like a lot and after the last few races we are going there with a lot of confidence. I have never ridden a MotoGP bike at Phillip Island so that will be a whole new experience for me and it has some very fast corners so I will need to learn my braking points and get my references very quickly. I think that we can do well there, because the bike is going well and we have some good developments that should make the Suzuki GSV-R work a lot better around the track."
Loris Capirossi:
"I am still in some pain from my foot, but most of the bruising has come out now and I feel like I can move about a bit easier, so when we get to Australia it should be a lot better. It is good we have a race so quickly after what happened in Malaysia because we need to get over that disappointment straight away. I want to go back from this trip with a good result to help us towards the last races of the year. Australia is always tough for us, but I am sure we can do something there this year."
Popularity: 1% [?]