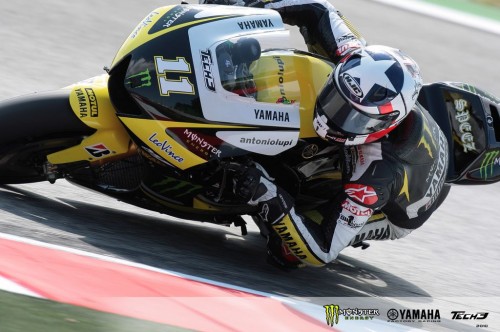 Ben Spies showed his form again today after battling hard for 6th position. Spies had a tough job on his hands as he found himself shuffled toward the back of the grid by the second corner, despite starting from 5th on the grid.
Colin Edwards also forght hard for a 7th place finish – a finish that scored him enough points to take him back into the top 10 in the championship standings.
Both Spies and Edwards take a sombre look back on a day where any individual or team victories were overshadowed by the tragic loss of Shoya Tomizawa from the Moto2 class.
Ben Spies 6th – 120 points
"It was a tough race after I got shuffled back at the second corner. I struggled a little bit with front-end feeling but I had a good pace and by the time I got through everybody into sixth everybody else was ten seconds ahead. There was no sense in doing anything stupid but looking at the lap times I'm sure I had the pace to fight closer with Casey. My goal was top six and that's what I achieved so I can't be too disappointed. I had top five pace and that's better than being in the top six but not fast enough to be any higher. I want to express my sadness at the passing of Shoya Tomizawa. My thoughts are with his family and friends. It's another sad loss for our sport."
Colin Edwards 7th – 66 points
"It was a good race and another seventh has put me back in the top ten in the championship. I made a good start and managed to avoid any trouble at the first corner and I had a good early battle with Simoncelli. But I had the same problem I had all weekend and I was losing the front a bit on the brakes. I was trying to ride aggressively and I was happy with my lap times but honestly, I thought the outcome was going to be a little better than seventh. When Ben came by he was able to just pull away from a little bit every lap. I tried my hardest to stay with him but once he'd gone I just settled for seventh. The race doesn't count for much though when you hear the news about Tomizawa. My thoughts go out to his family and friends at this difficult time."
Herve Poncharal – Team Manager
"Firstly, on behalf of everyone at Tech 3 Yamaha, I'd like to send our deepest sympathies to the family and friends of Shoya Tomizawa. He was a great talent and a really good guy who will be missed by all of us in the racing community. Looking at the race, what happened to Ben early on the first lap was crucial. Unfortunately he lost some places but once again he showed fantastic determination to recover even though this track is difficult to pass on. He got back to sixth but unfortunately he had no chance to catch Casey and that it is shame because without what happened on the first lap, I think Ben could have had a good race with him. But he scored another top six and again he was the best non-factory by a long way. I'm also really happy with Colin because he has been making a lot of progress recently and riding back to his best."
Popularity: 1% [?]