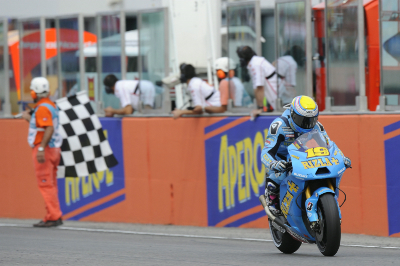 The Rizla Suzuki riders seemed to have swapped scripts for the Misano MotoGP, as this time it was Alvaro Bautista that finished the race and Loris Capirossi that crashed out.
Capirossi was knocked off his bike at the second turn after a collison with Nicky Hayden. The accident also left Capirossi with a damaged finger that he was required to seek medical attention for.
Alvaro Bautista started from 16th on the grid and forght his way up to 8th position, and by the end of the race he had managed to get Colin Edwards in his sights. Unfortunately for the hard-charging Bautista, the gap was too great to make up, despite him taking huge bites out of it.
Álvaro Bautista:
"It has now become a very difficult day and I don't really know what to say. I had a good race, even though I had to avoid Loris and Nicky after they crashed and I lost my position. I tried to get in my rhythm as quick as I could because I knew I had a good pace. When I was catching the group in front of me I made a mistake and put the bike into neutral – so I lost some more distance on them. I concentrated hard and pushed to the limit and I managed to go faster than I had in practice and I caught the group up. Once I was with them I knew I was faster so I got past them and pulled away. Today nobody crashed in front of me during the race so it was a true eighth position and I was very pleased with that. I was happy at the end of the race because the position was good and I was happy with the race-pace, but when we had finished the race I heard the news about Tomizawa and I am just so sorry for him and all his family. It is a hard day for all riders, I am sure he will stay with us always and I hope he is now in a better place."
Loris Capirossi:
"I am very angry at what happened today because I was feeling very confident and the bike was good, so I thought we could have a competitive race. Now I have to have an operation and I hope I can be back for Aragon, but this is nothing compared to what happened in the other race. I want to send my condolences to Tomizawa's family, this is a great tragedy and something that you never like to hear about."
Tom O'Kane – Álvaro Bautista's Crew Chief:
"Firstly I want to say to Tomizawa's family and friends that we all send our deepest sympathies – it's a terrible thing that has happened and Álvaro was very upset when he heard the news at the end of the race. With regards to the race, he got a very good start off the line, but took a few laps to find his rhythm. Then it looked like he had a really fun race, he was chasing guys down and passing them with what looked like ease. His fastest lap in the race is the fastest one he has done all weekend and we as a team will be doing all we can to move him up in qualifying to see what he can do from the second or third row."
Popularity: 1% [?]